EPS File Format in Adobe CS5 Illustrator
EPS File Format in Adobe CS5 Illustrator
Encapsulated PostScript File (EPS) is supported in Adobe Creative Suite 5 (Adobe CS5) Illustrator. EPS is the file format that most text editing and page layout applications accept; EPS supports vector data and is completely scalable. Because the Illustrator .eps format is based on PostScript, you can reopen an EPS file and edit it in Illustrator at any time.
1

Choose File→Save As.

Select EPS from the Save As Type drop-down list.
2

Choose the Illustrator version you're saving to.

From the Version drop-down list select the correct version.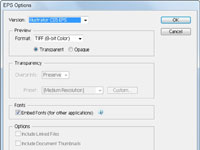 3

The EPS Options dialog box appears.

In the EPS Options dialog box that appears, choose the preview from the Format drop-down list. 8-Bit Color is best used for a color preview on either Mac or PC. Black & White is a low-resolution, black-and-white preview universally applicable.
4

Select either the Transparent or Opaque radio button.

The choice depends on whether you want the non-image areas in your artwork to be transparent or opaque.
5

Specify your transparency settings.

These settings are grayed out if you haven't used transparency in the file.
6

Choose the Embed Fonts option.

Leave the Embed Fonts (for Other Applications) check box selected to leave fonts you used embedded in the EPS file format.
7

In the Options section, leave the Include CMYK PostScript in RGB Files check box selected.

If you don't know which Adobe Postscript level you want to save to, leave it at the default.
8

Click OK.

This saves your file in EPS format.