How to Create Gradients in Fireworks CS5 Graphics
How to Create Gradients in Fireworks CS5 Graphics
You can add some dimension to a graphic by filling it with a gradient. To create a gradient in Adobe Fireworks Creative Suite 5, follow these steps:
1

Create a shape that you want to fill with a gradient.

It doesn't matter what kind of shape it is. Feel free to use your imagination.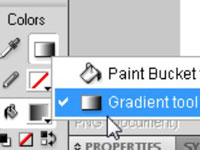 2

With the shape selected, choose the Gradient tool.

The gradient tool is hidden. To find it, click and hold the Paint Bucket tool in the Colors section of the Tools panel. Then you can see and select the hidden Gradient tool.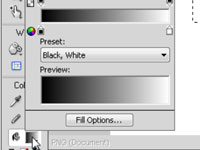 3

Click the Fill Color box in the Tools panel to assign colors to the gradient.

The Fill Options window appears.
4

Assign color to the gradient.

To assign colors to the gradient, simply click the existing color stops and choose a color from the pop-up palette.