How to View Photos on a Ning Network
How to View Photos on a Ning Network
When you join a network on Ning, you can check out the photos provided by the other network members, as well as mark photos you want to keep tabs on as Favorites.
1

Log in to your social network.

Your profile page appears.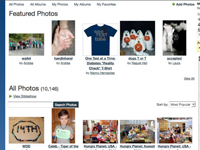 2

Click the Photos tab in the top navigation bar.

The Photos page appears. You're sure to discover a lot about your fellow network members and the topic of your network simply by checking out the photos in this section.

At the top of the page, you can see photos that have been featured by an Administrator of the network. Below the Featured Photos section, under the All Photos heading, you can view all photos in the network.
3

To search for photos, type a name or keyword in the text box and click the Search Photos button.

You'll see a list of related photos.
4

If you want to sort photos, use the Sort By drop-down list on the right.

Your sorting options are Latest, Top Rated, Most Popular, and Random. Click the option you want.
5

To set a favorite, click the photo that you love, then click the Add to Favorites link below the photo.

You can later view the items you've marked as your Favorites by going to the Photos page and clicking the My Favorites link at the top.