How to Use Your Own Domain Name for Your Ning Network
How to Use Your Own Domain Name for Your Ning Network
For a splash of personality, add your own domain name to your Ning network. Although the .ning.com appendage at the end of all networks on Ning could be considered a minor thing, using your own domain name looks more professional.
1

Click the Manage link in your network's navigation bar.

The Manage page appears.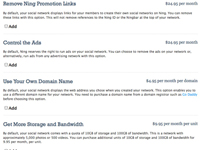 2

Click the Premium Services link under the Your Network header.

The Add Premium Services to Your Network Name page appears.
5

When you have your domain, enter it in the URL text box in the Use Your Own Domain panel you open in Step 3.

This information notified Ning of the domain you want to map to your network.
6

Click the Go button at the bottom of the page.

You'll be prompted to enter your credit card information in your browser window.
7

Fill out your credit card information.

This premium service costs $4.95 per month per domain. Your credit card will be charged every 30 days (unless you cancel your premium services, after which you get an e-mail with a receipt.
8

Enter your password for confirmation purposes and click Go.

A confirmation screen appears.
9

Go to your registrar's Web site and set up domain name mapping.

Things can get hairy with domain name mapping, but Ning has made it easier by offering tutorials.
10

Wait up to three days for all the domain name magic to happen.

If you don't see your network coming up when you type in your domain name after three days, contact your registrar.