How to Create Multiple Levels of Ning Network Administrators
How to Create Multiple Levels of Ning Network Administrators
You don't have to give all your Ning network's Administrators the same level of control. Your members can help you manage your network without your giving them full Administrative rights to the network:
1

Click the Manage link in your network's navigation bar.

The Manage page opens.
2

Click the Members link below the Your Members heading.

The Manage Members page that appears.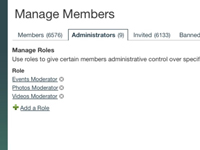 3

Click the Manage Roles link.

The Manage Roles section that appears lets you add new roles, specific to certain tasks, so you can assign them to your members.
4

If you want to remove an existing role, click the small x next to the role you want to delete.

Ning removes that role from your list.
6

Enter a Role Name in the text box.

Try to give the role an intuitive name, such as Photo Moderator or Forum Moderator.
7

Select the check box (or check boxes) next to the feature(s) you want the role to have administrative rights over.

To deny a role a particular right, simply don't check the box next to that right.
8

Click the Add a Content Item link and, in the window that appears, enter the URL of a specific Ning item (such as a forum) for this role to administer.

This option becomes very useful when you have a topic that's particularly popular, has gotten many comments, or is particularly controversial and you could use a few more eyes to keep tabs on it.
9

Click the Save button.

Ning adds the role to your network's list of roles.
10

Click the Manage link in the navigation bar, then click the Members link.

You return to the Manage Members page.
11

Click the check box next to the member to whom you want to give the role and pick the role that you want to assign from the Actions drop-down list.

You can have as many members assigned to a role as you need, and you can create as many as 20 roles on your network.