How to Choose a Theme for Your Ning Network
How to Choose a Theme for Your Ning Network
You can run your network on Ning without being a very accomplished designer — and Ning's themes let you make it look like a million dollars! The folks at Ning have taken good care of that and offer you more than 50 great-looking templates (they call them themes) that you can use with minimal effort: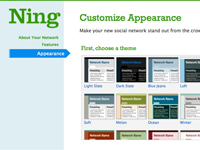 1

When creating your network, click the Next button on the Add Features to Your Network page.

The Customize Appearance page appears.
2

Doing this is as simple as scrolling by using the scroll bar on the right until you see a theme you like, and then simply click the theme.

You've just assigned that theme to your network.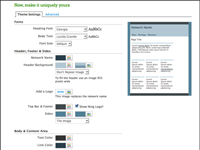 3

Tweak the theme to make it look the way you want it to.

Under the heading Now, Make It Uniquely Yours, you can adjust the theme settings to a degree that serves almost all your customization needs.
4

When you finish choosing a theme and customizing your network's appearance, click the Launch button.

After you click on the Launch button, y your network's main page appears. Your network is up and running!