How to Choose a Language with the Ning Language Editor
How to Choose a Language with the Ning Language Editor
The Ning Language Editor is one of the most powerful tools at your disposal for customizing your network to the max. The Ning Language Editor helps you make your network interface (menus, buttons, headers, legends, and so on) read exactly the way you want it to. The Language Editor lets you choose a particular language:
1

Click the Manage link in your network's navigation bar.

The Manage page appears.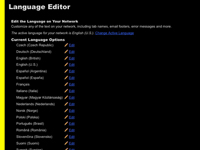 2

Click the Language Editor icon below the Your Network heading.

You land on the Language Editor page, which shows you what language your network is currently using next to the words The Active Language for Your Network Is.
3

Click the Change Active Language link.

The Network Information page appears, where you can change the network's language to one of the languages offered by Ning. The variety of languages goes as far as offering two variations of English (U.S. and British), two variations of Spanish (Argentina and Spain), almost every other major language in Europe, and a number of Asian languages.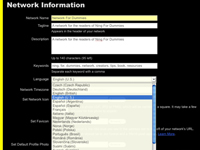 4

Select the language you want to use from the Language drop-down list.

If you don't see the language you want in this list, you have to follow a different procedure to use an unsupported language.
5

Click the Save button at the bottom.

You'll see your page in the new active language.