How to Add a Favicon to Your Ning Network
How to Add a Favicon to Your Ning Network
By default, your Ning network's network icon appears as its favicon (only smaller). However, you can also add a different favicon to your Ning network, if you want. (Favicons are those cute little icons that appear on your browser's address bar when you visit some Web sites and in your bookmarks for those sites.):
1

Create a favicon for your network.

You can either do it yourself (it's a 16×16 image saved in the ICO format) or, more conveniently, do a Google search for create a favicon and use any of the resources listed in the results to help you create it.
2

Click the Manage link in your network's navigation bar.

The Manage page opens.
3

Click the Network Information link under the Your Network heading.

The Network Information page appears.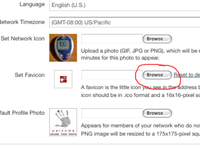 4

In the Set Favicon section of the Network Information page, click the Browse button.

A favicon dialog box opens.
5

Find the recently created

.ico

file in your computer, select it, and click OK.

This uploads the file to your social network.
6

Click the Save button.

Your favicon now appears in browser URL windows.