How to Use the MySpace Profile Edit Page
How to Use the MySpace Profile Edit Page
With the MySpace Profile Edit page, you can add, erase, or change your profile information whenever you want. To open the Profile Edit page, simply go to your home page and click the Edit Profile link in the top-left corner.
The Personal Info tab on the Profile Edit page is divided into eight separate screens that you can select to edit different parts of your profile.
When you've entered all the information you want to share, click the Save All Changes button at the bottom of the page to place your new profile information on your profile page. This figure shows a profile with the Profile Edit information applied.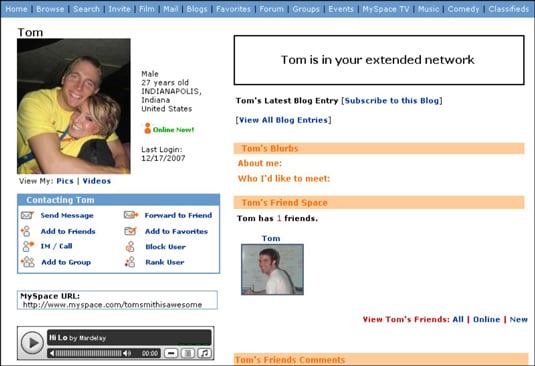 Interests & Personality
The Interests & Personality section allows you to enter information about your personal interests, as well as the reasons why you're using MySpace. All the information you enter on this page appears on your main MySpace page.

The categories in the Interests & Personality section include
Headline: A brief sentence meant to sum up you or your profile.

About Me: Tell the world anything you want about yourself.

I'd Like To Meet: Define specifically who you want contacting you on MySpace.

Interests: List your hobbies, academic pursuits, sports you play, or other pastimes that define your life.

Music: List band names, album titles, song titles, or genres of music you like or don't like.

Movies: Do you have a favorite movie you can quote line for line?

Television: Share your favorite shows in this space.

Books: Let your friends know what they should be reading by listing your favorites here.

Heroes: Who do you look up to as a personal hero?
Name
Click the Name link at the top of the Profile Edit page to make two major changes to your profile:
Display Name: The name that appears at the top of your MySpace page.

First Name/Last Name: Add your first name and last name if you skipped that step when setting up your URL; you can also change or erase your name, if you prefer.
Basic Info
Click the Basic Info link to fill in specifics about your occupation, ethnicity, body type, height, and the reason you use MySpace. On your first visit to this page, MySpace automatically includes your gender, birth date, country, and postal code information that you entered when you signed up.
Feel free to change or erase these automatically filled fields, if you want.
Background & Lifestyle
This set of choices allows you to share your marital status, sexual orientation, hometown, religion, education level, and income with other MySpacers. You can also include whether you smoke, drink, or want to have children someday.
Schools
Adding the names of the schools you attended to your profile is an easy way to find and make contact with other MySpace users who attended the same schools as you.

Companies
You can add the companies you work for currently or worked for in the past to your profile. Click the Companies link at the top of the Profile Edit page. You can enter the company's name, city, state/region, and country, as well as your title, the division you worked in, and the dates you were employed.
Networking
MySpace provides an online venue for networking with people either in your profession or in a field you're interested in. MySpace provides drop-down lists where you can select the field, subfield, and role that you want to network in. You can also add a description of what specific field, business, or position you're looking for.