How to Receive MySpace Notifications on Your Cell Phone
How to Receive MySpace Notifications on Your Cell Phone
MySpace alerts are happily compatible with whatever cell phone and service provider you have. MySpace, through the magic of text message, lets you keep up to date with everything that happens on your MySpace account: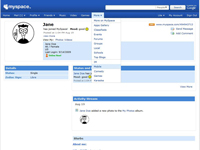 1

On the main page of your profile, click the Mobile link under the MySpace Links section.

The MySpace Links section is located toward the bottom of the box underneath the Control Panel.
2

Click the Sign-Up button in the Get MySpace Mobile Alerts section.

The Mobile Alerts Activation window opens.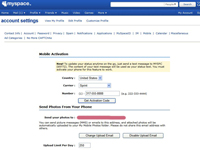 3

Select your country and carrier from the drop-down lists and enter your phone number in the Number text box.

These options appear at the top of the Mobile Alerts Activation window.
4

In the My Mobile Notification Settings box, select the check boxes for the events you want to be notified about.

All the choices here are checked by default, but you can uncheck any choice you want. You can choose Friend Request, Profile Comment, New Message, Blog Comment, Image Comment, and Event Invite.
5

Click the Apply Settings button to begin the process.

Notice the fine print at the bottom of this page! MySpace won't charge you for this notification service, and that's mighty kind of them. Your service provider, however, probably won't be so generous. You'll get charged for these text messages, just like you would for any others. Check your plan (and your wallet) before you sign up for these alerts.
6

Enter your phone number and your wireless carrier, and then verify your number through a text message.

After you verify your number through the text message, you're ready to go.