How to Add an Event to Your MySpace Calendar
How to Add an Event to Your MySpace Calendar
MySpace offers you a calendar in which you can add events. Even if you don't use MySpace's Event feature, and so don't need to record those events in your calendar, you may find that you need an extra reminder every now and then:
1

Log in to your MySpace account.

Your MySpace main profile page appears.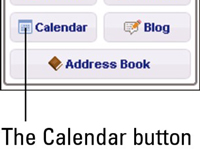 2

To access the calendar, click the Calendar button in the Control Panel section of your profile page.
3

Your calendar pops up in the My Calendar window.

By default, it displays the current day.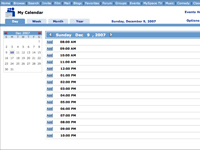 4

Select the date on the main calendar to the left of the My Calendar page and click the Add button next to the time closest to your planned entry.

The Add Entry to Calendar window appears.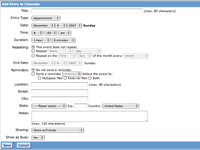 5

Give your calendar entry a title in the Title text box.

You could enter anything from Take the dog for a walk to Show up for your job interview, fool!
6

Assign a category from the Entry Type drop-down list just below the Title field.

Your choices range from MySpace Event to Bill Payment.
7

Select the appropriate information from the Date and Time drop-down lists.

Set up the time and duration of the appointment.
8

Select a Repeating radio button and use the drop-down lists to specify the day(s), if necessary.

You can have it repeat weekly, monthly, or not at all.
9

Select the appropriate Reminders radio button.

If you want a reminder, you can specify when and where you want it sent.
10

Enter the location information for your appointment, along with any notes you need to add.

You may want to remind yourself about what to bring, for example.
11

Select an option from the Sharing drop-down list.

If you make it public, people viewing your page can see what you're doing. If you're not absolutely sure you want people to know what you're up to ("Hey, Steve, I didn't know you were a fan of Disney on Ice!"), mark it private.
12

Select whether to mark the time as busy or not in the Show as Busy drop-down list.

If you show that you're busy, people will know, when they're scheduling their own events, whether you're available.
13

Click the Save button at the bottom of the page.

Your event is entered in your calendar, ready to rock.