How to Send a LinkedIn Connection Request to an Existing Member
How to Send a LinkedIn Connection Request to an Existing Member
When you're on a LinkedIn page and spot the name of a member who you want to invite to your network, you can follow these steps to send that person a connection request.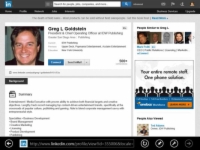 1

Click the person's name to go to his profile page.

You might also find people to invite while doing an advanced people search or a number of other omethods.
3

From the list of connection reasons, choose the option that best describes your relationship to this person.

You might have to input the person's e-mail address to help prove that you actually know the person. If you select the I Don't Know Person's Name option, LinkedIn denies the request, so keep that in mind. If you pick a category such as Colleague or Classmate, LinkedIn displays a drop-down list of options based on your profile.

For example, if you pick Colleague, LinkedIn displays a drop-down list of your positions. You need to pick the position you held when you knew this person.
4

Enter your invitation text in the Include a Personal Note field.

It's highly recommended that you compose a custom invitation rather than use the standard text, "I'd like to add you to my professional network on LinkedIn." You can remind the person how you recently met, acknowledge one of his achievements, and ask him to connect.
5

Click the blue Send Invitation button.

You'll be notified by e-mail when the other party accepts your connection request.