How to Review LinkedIn Job Applicants
How to Review LinkedIn Job Applicants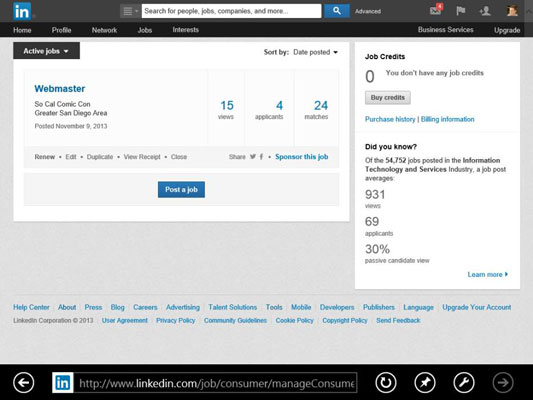 15
Hover your mouse over the Account & Settings button (on the top navigation bar on the right) and then select Manage (next to Job Posting) from the drop-down list that appears.
You should be taken to the Active Jobs screen.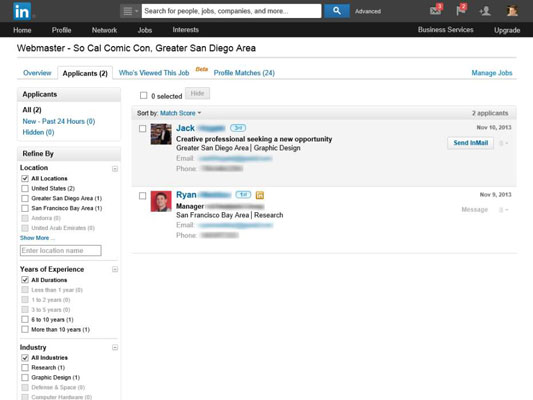 25
Click the job title of the job listing you want to review, then click the Applicants tab (next to the Overview tab you're already on).
This brings up the Applicants page for the job listing. You should also see any recent applicants listed on the Overview screen for the job listing.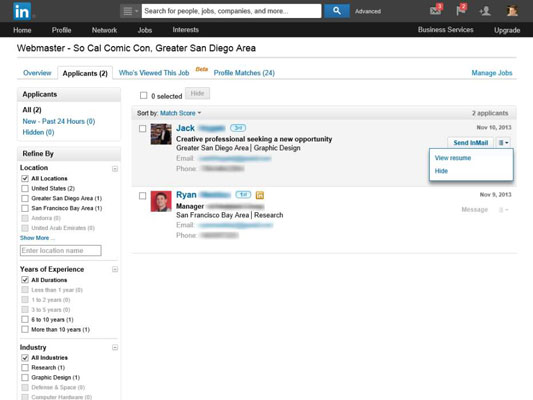 35
Hover your mouse over an applicant's line item (on the right hand side below the date of the application) to access the links for viewing the applicant's resume. You can also click the applicant's name to see his LinkedIn profile; click the link associated with whatever you'd like to review.
Click the Send InMail or the Message button to contact the applicant.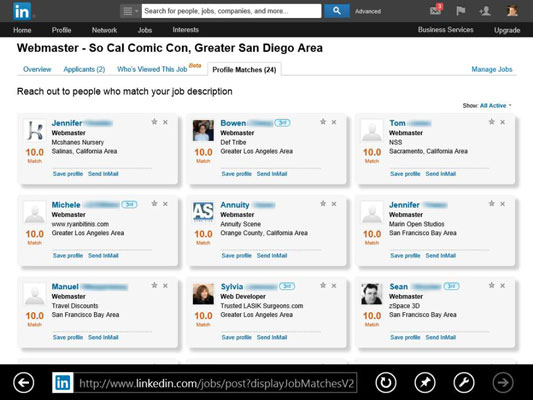 45
Click the Profile Matches tab to see additional potential applicants for this job.
In this example, LinkedIn analyzes the job listing and then looks through LinkedIn member profiles to see what is a match for the position based on the job description and skills requirements. When you click the Profile Matches tab, you are taken to a results page.
LinkedIn displays the name, headline, photo, and location of each potential applicant and a score that indicates how closely they match, based on a 10-point scale. This helps you determine whether the person in the search result has the right skills as indicated by his profile.
At this point, you could go through the search results and look for applicants you'd want to approach to see if they'd be interested in the position. There are links in each search result box to save their profile or send them an InMail message.
If someone is a second- or third-degree network member, that degree is shown next to their name. Scroll to the bottom of the page and click the Show More link at the bottom to see more search results.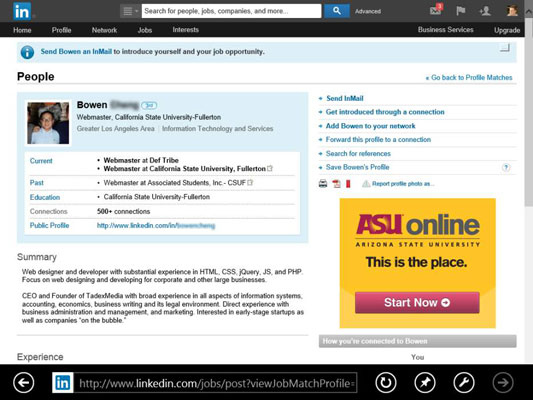 55
Click the name of an applicant and contact her to see if she'd be interested in the job.
When you click any name in the search results, you bring up the person's profile. If you think an applicant is worth pursuing for your job opening, you can use InMail or an introduction to send him a message and inquire about his interest in the job.
Make sure the person is looking for a new job opportunity and is open to receiving incoming messages. You can do this by scrolling to the bottom of the profile and checking the Contact Settings.