How to Join LinkedIn without an Invitation
How to Join LinkedIn without an Invitation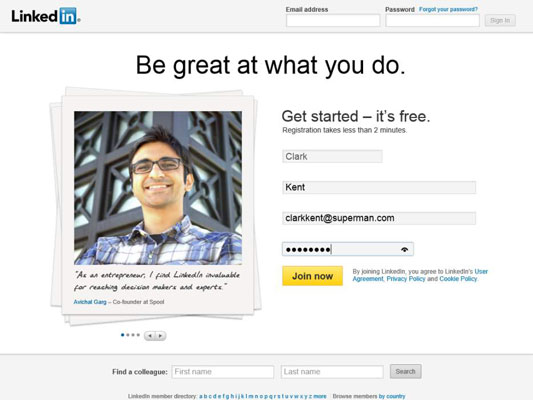 18
Open your web browser and go to LinkedIn. You see the initial LinkedIn home page.
In the Get Started section in the middle of the page, provide your first name, last name, e-mail address, and a password in the boxes provided.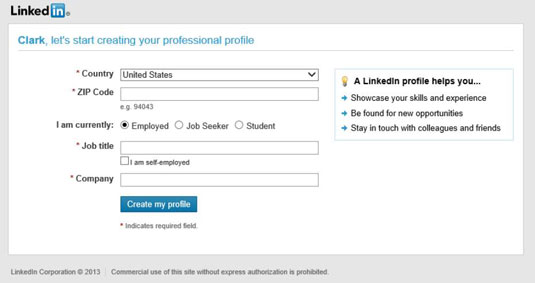 28
Click the Join Now button.
You're taken to the next step, where LinkedIn starts to build your professional profile by asking about your current employment status and location.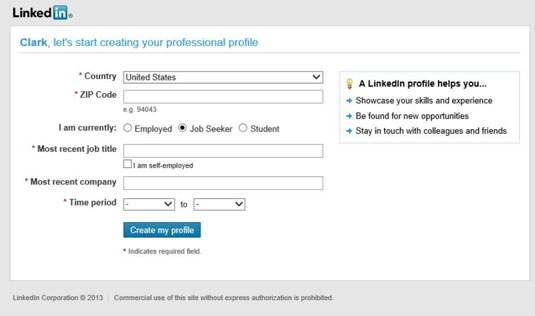 38
Complete the fields regarding your current employment status and location.
Specifically, you need to provide the following information:
Country and ZIP code: LinkedIn won't display your ZIP code, but it does use it to assign a Region to your profile so others know the general area where you reside.
I am currently: Indicate whether you're employed, a job seeker, or a student.
Details about your status: Depending on your status, LinkedIn asks for a Company, Job Title, and Industry if you are employed, or asks for your most recent job title and company, if you're looking for work.
If you find it difficult to choose an industry that best describes your primary expertise, just choose one that's closest. You can always change the selection later. If you're employed but looking for another job, you should still pick the industry of your current profession.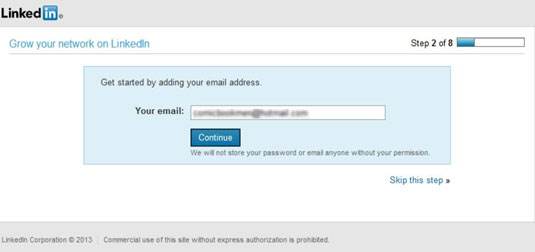 48
Click the blue Create my Profile button to continue.
LinkedIn then offers to import your contacts from your e-mail program. LinkedIn walks you through the steps of importing your address book and offers you the chance to connect with existing members of LinkedIn. You can also do this after you create your account by clicking the Skip This Step link.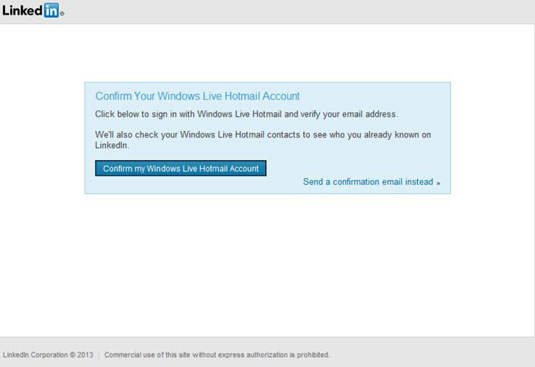 58
LinkedIn asks you to confirm the e-mail address for your account.
Depending on the e-mail account you used to register the account, LinkedIn may be able to log directly into that e-mail account and confirm your e-mail address. Otherwise, LinkedIn e-mails you a confirmation, which you can choose to receive instead of using LinkedIn to log directly into your e-mail account.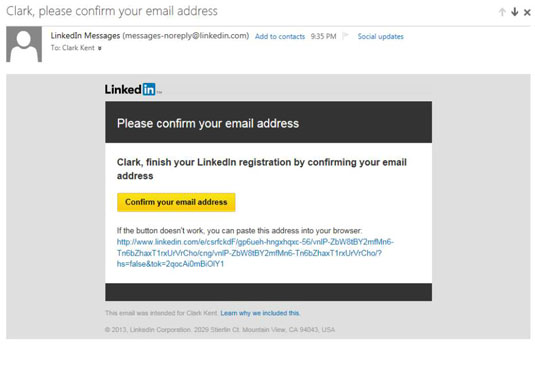 68
If you choose (or have) to receive a confirmation e-mail, open your e-mail program and look for an e-mail from LinkedIn Email Confirmation with the subject line Please confirm your e-mail address.
When you open that e-mail, you should see a request for confirmation. Either click the Confirm Your Email Address button or copy and paste the URL provided in the e-mail into your web browser.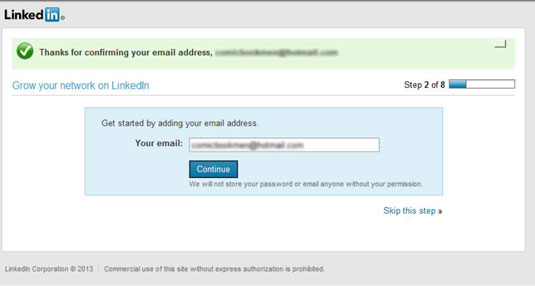 78
When you click the button, you're taken back to LinkedIn and it confirms your address. You may be asked to log in to your account, so simply provide your e-mail address and password when prompted.
You are asked to connect your e-mail account to look for new contacts, prompted to install the LinkedIn mobile application, and offered the chance to upgrade your account to a paid account. You can always click Skip This Step to move along the account creation process and save those tasks for later.
If you skip this step of confirming your e-mail with LinkedIn, you won't be able to invite any connections, apply for jobs on the LinkedIn job board, or take advantage of most other LinkedIn functions.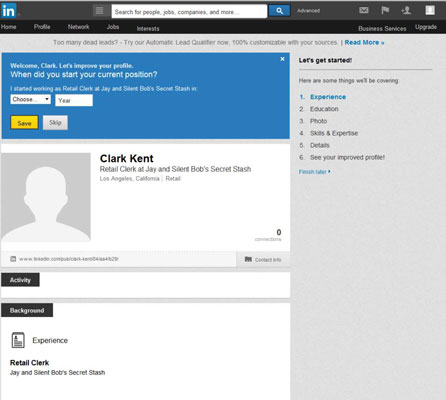 88
Your account is created, and you are now free to start building your network and updating your profile!
You are taken to your home page where LinkedIn asks for information to help build your profile.
In the meantime, if you want to take a break to check your e-mail, you'll find a nice Welcome to LinkedIn! message there from LinkedIn Updates, assuring you that you're now a registered LinkedIn user. The e-mail encourages you to connect with people you may know and offers to take you back to the website to search for more people to add to your network.