How to Use Thomas' Myspace Editor to Customize Your MySpace Profile
How to Use Thomas' Myspace Editor to Customize Your MySpace Profile
MySpace page generators allow you to customize your MySpace profile. Thomas' Myspace Editor is a popular choice. You can use Thomas' Myspace Editor to make your MySpace profile page unique.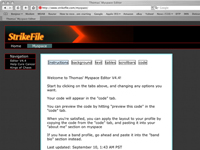 On the first page of the editor, you get the instructions for using the site. Look them over.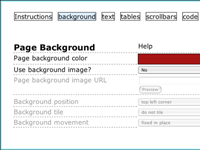 2

Click the Background button.

This page allows you to choose what you want to do with the background of your page.
3

Select either a solid color or a background image.

If you select Yes from the Use Background Image drop-down list, you can enter the URL for that image in the Page Background Image URL text box.
4

Select options from the Background Position, Background Tile, and Background Movement drop-down lists.

Decide what position the image should occupy, whether it should tile (repeat) across or down the page, and whether it should scroll with your MySpace page while it moves (or remain in place).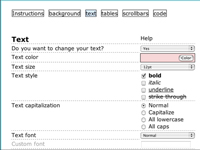 5

After you make your background edits, click the Text button at the top of the page.

The Text screen allows you to alter page attributes such as text, links, and headings.
6

Specify how you want the text to appear on your MySpace profile page.

There's a huge amount of control here — while you choose what you want to modify, more options become available.
8

Specify your Borders and Table Background settings.

These settings change the appearance of tables in your MySpace profile.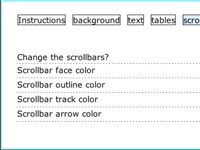 9

Click the Scrollbars button at the top of the page.

The Scrollbars screen appears, where you can modify your scroll bars and how they appear.
10

Make any changes you want to the look of your scrollbars.

Clicking the Color button next to each option to view the color options.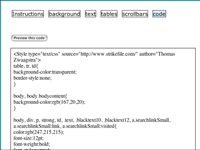 11

After you make all your changes, click the Code button.

The Code window opens with the code for your settings in the text box.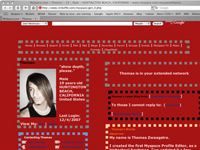 12

If you want, preview what you've put together by clicking the Preview This Code button above the code text box.

You can use this preview to be sure you're getting what you want.
13

Copy this code into your About Me field on MySpace's Profile Edit screen and save it.

You're ready to go with your custom profile!