How to Upload Photos to MySpace
How to Upload Photos to MySpace
MySpace allows you to upload photos to your account. Upload photos to MySpace by using a simple process that transfers a copy of the picture from your computer to MySpace:
1

Log in to your MySpace account.

Your MySpace profile's main page opens.
2

Click the Photos button in the Control Panel of your profile page.

The Photos page appears.
3

Click the Upload Photos button at the top of the page.

The Photo Upload dialog box opens.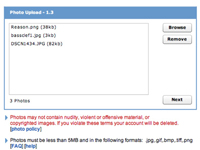 4

Click the Browse button next to the text field in the Photo Upload box and find the picture you want to upload from your computer.

You can upload several photos at one time. Just repeat this step until you add all the pictures you want to put on MySpace.
5

Click the Next button.

The dialog box now displays options for storage locations on MySpace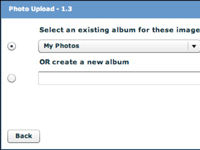 6

Select the album in which you want to place the new photos from the Select an Existing Album for These Images drop-down list.

MySpace automatically creates a generic photo album on your page labeled My Photos. In case you want to get a little more specific, you can always create a new photo album by entering a name in the Create a New Album text box.
7

Click the Upload button to upload your photos.

MySpace shows the progress of each of your uploads, and the album opens after the uploads finish.