How to Tag Your MySpace Photos
How to Tag Your MySpace Photos
MySpace is all about making connections, and tagging a photo is just another way of bringing everything together. Tagging a photo means you're connecting the person in that photo to another MySpace user and providing a link to his or her profile.
Add a tag to a photo: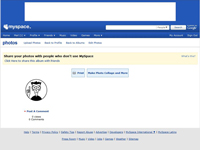 1

Log in to your MySpace account and click the Photos button in the Control Panel of your profile page.

The Photos page opens.
2

Click the album that contains the photo you want to tag.

That album's page opens, displaying all the pictures in it.
3

Find the photo to which you want to add a tag and click the Tag Photo link above that photo.

This link appears either as a button at the top of the page or as a link just above the photo.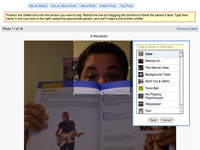 4

Using the window that appears over the photo, select the person's face.

Resize the window as necessary to include the person's entire face.
5

Open your Friend List by clicking their photo.

Or, you can type your friend's name in the text field in the dialog box.
6

Click Save.

You can tag as many faces in the photo as you want.