How to Upload Your Facebook Profile Picture
How to Upload Your Facebook Profile Picture
Uploading a Facebook Profile picture helps set you apart from other people with similar names. When you first sign up for Facebook, you have an opportunity to upload a picture to represent you. Make sure you have the photo you want to use saved somewhere on your computer's hard drive, and follow these steps: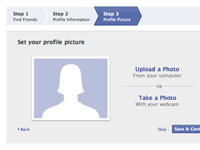 1

Click Upload a Photo.

This isn't the only chance you get. You can upload a new picture any time you feel like making a change.

Your Profile picture is one of the first ways people interact with your Profile and how you choose to represent yourself. Most people pick pictures that are more or less flattering, or that represent what's important to them. Sometimes, Profile pictures include other people, such as friends or significant others. Other times, the location matters.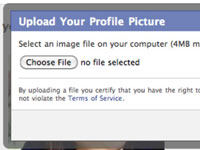 2

Click Choose File.

Depending on what kind of computer you have, this may say something slightly different, but the gist is the same: Choose a file from your hard drive. This opens a navigation interface.
3

Select your desired photo and click Select or OK.

This brings you back to the original screen, except now there's a preview of your new Profile picture.
4

Click Save & Continue.

By default, your Profile picture appears in search results that are visible to all of Facebook and can even be made available to the larger Internet population. So, generally, people who search for your name can see that picture. Make sure it's something you're comfortable with everyone seeing.