How to Give Your Blog a Name
How to Give Your Blog a Name
Now that you've agreed to join the masses of people who are spilling their hearts and souls (and, in some cases, guts) on the Internet via blogging, it's time to name the baby.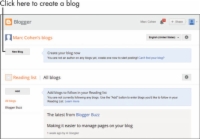 1

Click the New Blog button shown.

A new window pops up with options for naming your blog, establishing an address, and selecting a template for how your blog will look.
2

Name your blog.

This title will appear on your Dashboard and on the blog pages. Don't freak out and freeze up at this point! You can change the name of your blog at any time. So go easy on yourself.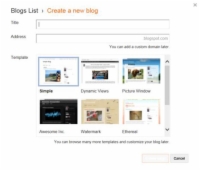 3

Give your blog a web address (URL).

Okay, this gets a little sticky. You can change this part later, but the URL you select becomes the web address for your blog. It's what people must type in their browsers when they want to go to your blog.

Because there are a lot of Blogger blogs, Google scans to make sure that your URL is available — and alerts you if it isn't.
4

You have the option to choose a template for your blog.

Choosing a template is no big deal — you can always change it later. You can also make simple changes to the template — say, placement of columns and colors and such. If you're technically inclined, you can even create your own custom template after your blog is set up.

But for now, you've got to pick one — so scroll through the available templates. If you'd like to start with a very basic blog, choose the one called Simple to start.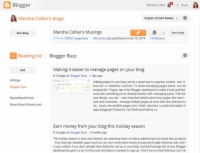 5

When you're all set up, click the Create blog! button.

You're taken to a screen that allows you to manage your blog, including options to select when you make your first post. Note that the page shown is from an established blog with 182,637 page views; every new blogger starts at zero and works his or her way up.

In the future, you can purchase a custom URL (that is, a web address you specify) from Google and use it for your blog. It currently costs about $10 per year. Wait until your blog evolves for a while to see whether you want to continue with it. Once you've purchased a URL, that's it — no changing your mind about what it's called.