How to Administer Your Facebook Group
How to Administer Your Facebook Group
If you're the creator of a Facebook group, you're automatically its admin, or administrator. Additionally, you can be added as an admin of someone else's group. After you have members in your group, you can use the group member list to remove (and even permanently ban) undesirable members, promote your most trusted members to administrators, or demote your existing administrators (if any) back to regular members.
To get started in your career as an admin, take a look at the Edit Group Settings page. You get to this page by clicking the gear icon on the right side of your group's page (under the member photos). This expands a drop-down menu with several options. Select Edit Group Settings from the menu, which takes you to the Edit Group Settings page.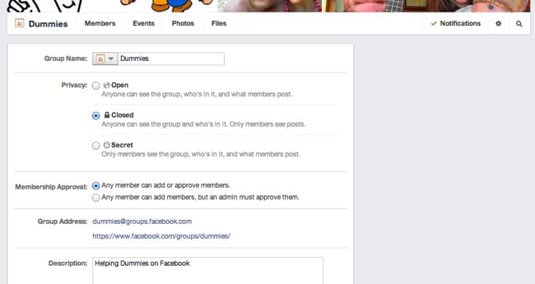 The Edit Group Settings page allows you to revisit some of the decisions you made when you were first creating your group, as well as adjust some settings that tend to be relevant only for people who are admins of large, open groups.
Name: Edit the group name here.

Icon: You can change your icon at any time from here.

Privacy: The privacy level of the group can change here. Changing a secret group to an open group might be a bad idea if people are sharing content they may feel is sensitive.

Membership Approval: By default, any member of a group can add other members. You can change this option by requiring admins to approve new members.

Group Address: If you want, you can create a group e-mail address and web address. Group addresses appear as something like groupname@groups.facebook.com and web addresses appear as something like www.facebook.com/groups/groupname. E-mails sent to the group e-mail address are added as posts to the group wall.

Description: The description of your group appears in the About section of the group the first time new members visit your group page. So this is a good place to set expectations for what the group is for and how you expect to use it.

Posting Permissions: By default, all members of a group can post to it. But if you're the admin of a large group, you may want to change this setting so that only administrators can post. Keep in mind that this can really limit discussion!

Post Approval: Similarly, if you want to make sure the content of a group is appropriate and relevant, you can choose to have admins approve posts before all group members see them.
Click Save when you're done editing your group's information; otherwise, all your hard work will be lost.
As an admin, you can remove and ban members from the group, as well as create other admins to help shoulder the burden of admin-hood.
To edit members, follow these steps:
Next to the group's name, click the Members tab.

This takes you to the Members section of the group, the bulk of which is taken up by images of group members. If you are an admin, below each group member's name is a little gear icon.

Click the gear icon below the name of the person you want to remove or make an admin.

A menu with two options appears: Make Admin or Remove from Group.

To make someone an admin, click Make Admin.

When someone is already an admin, you can remove her admin status by choosing Remove as Admin from this same menu.

To remove someone from the group, choose Remove from Group.

You need to confirm this via a pop-up window that appears. If someone has been posting consistently offensive or abusive content, you can ban that person permanently by selecting the Ban Permanently check box; that person can never rejoin the group.