Control Your Privacy on Facebook
Control Your Privacy on Facebook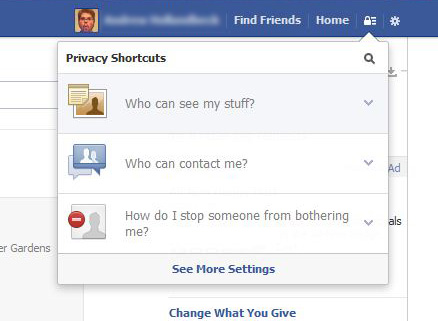 110
Click either the Privacy Shortcuts icon (the padlock) and select See More Settings or click the Settings icon (the cog) and select Privacy Settings.
Both of these icons are in the upper-right corner of the Facebook page. Either action will open the Privacy Settings and Tools page.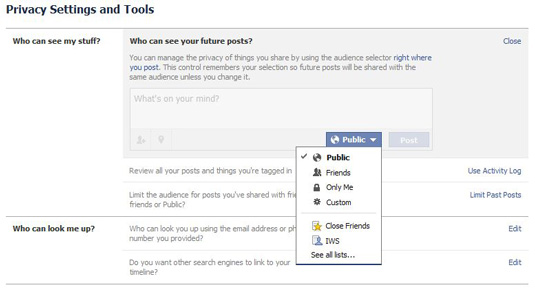 210
To limit who can see your Facebook posts, click Who Can See your Future Posts and select Public, Friends, Only Me, Custom, or one of your friend lists.
Changing who can see your posts only applies to future posts. Facebook will not retroactively remove or limit posts that have been shared in the past.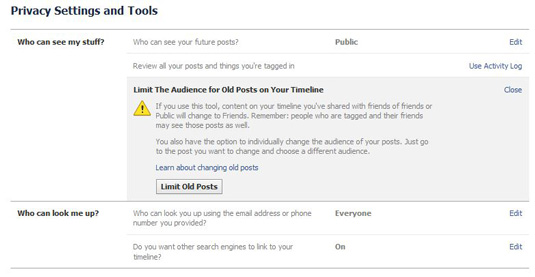 310
To retroactively change the privacy settings for your existing posts, click the Limit Past Posts link and click Limit Old Posts.
Make sure you read the information about the limitations and ramifications of this option before you decide whether to click the button.

410
To limit your posts to Facebook, or to open them up to online search engines, click Do You Want Other Search Engines to Link to Your Timeline? and select or deselect the check box.
Note that, if you deselect the checkbox, it might take a little time for the search engines to stop showing links to your timeline in search results.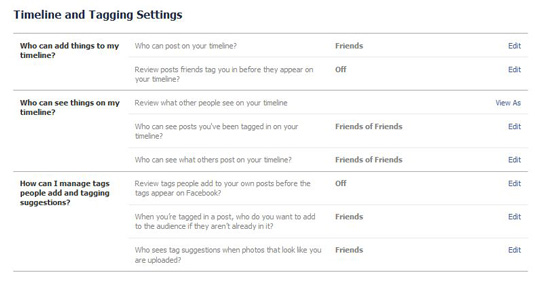 510
To control what happens when someone else tags you, click the Timeline and Tagging tab on the left.
Facebook will let you approve others' tags before they go "live" and link back to you.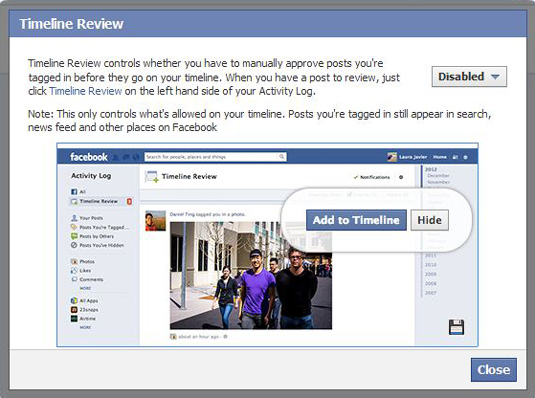 610
Click Review Posts Friends Tag You In before They Appear on Your Timeline and select Disable or Enable.
Enabling this feature adds a Timeline Review link to the left side of you Facebook page. With this enabled, you can see any new posts or pictures your friends have tagged you in and then either approve or eliminate that tag.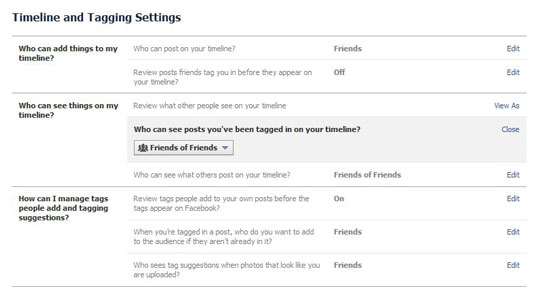 710
Customize the settings in the Who Can See Things on My Timeline? section.
Not only can you control whether or not you get tagged in others' photos, you can control who gets to see the pictures you were tagged in — at least on your own Timeline. This is also where you control who can post to your Timeline.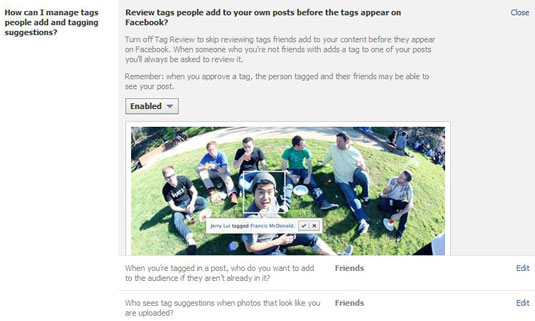 810
Click Review Tags to Your Own Posts . . . and Enable or Disable it.
If you enabled Timeline Review in Step 6, disabling this feature will keep you from having to approve tags of you in your own posts and images. Since those posts and images are already associated with you, why mess with having to approve tags that associate you with them again?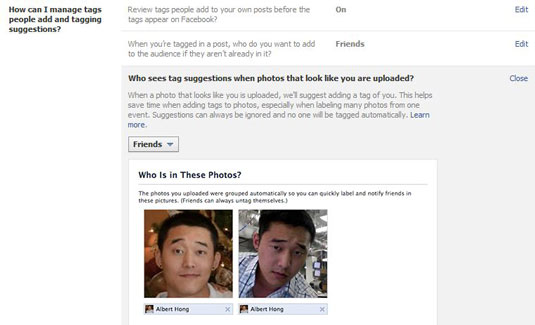 910
Click Who Sees Tag Suggestions . . . ?
Facebook can recognize your face in other people's photos and recommend your name as a tag when they're uploaded. The only options for this feature are Friends and No One. If you turned on Timeline Review in Step 6, you would have to approve tags anyway, so leaving this Enabled is simply a timesaver for your friends — and a boon to you if you have a name that's difficult for your friends to spell.
Facebook will not recommend your name as a tag in photos uploaded by people you haven't friended. And those tags are just recommendations, too; your friends might not even use them, and you won't automatically be linked to pictures of people who look like you but aren't (an encouraging thought for identical twins).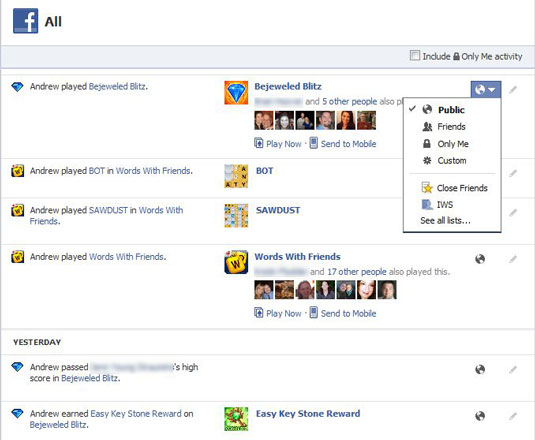 1010
Finally, click the Privacy Shortcuts icon (the padlock), select who can see my stuff, and click the Use Activity Log link. Then seek out and cut any ties to Facebook content you don't want to be associated with.
The Activity Log is a reverse-chronological list of everything that has been linked to your Facebook page, including your posts and pictures and likes, tags of you, your comments on other people's Timelines, and posts created on your behalf by the apps you use. For each item, you can choose who sees it on your Timeline. You can also "Unlike" an item here by clicking the pencil icon on the far right.
These changes apply to individual items, not to the settings of applications. To change application settings, select the app from the list in the left-hand navigation and then change the sharing setting(s) at the top of the screen.