7 Places to Extend Your Blog's Design
7 Places to Extend Your Blog's Design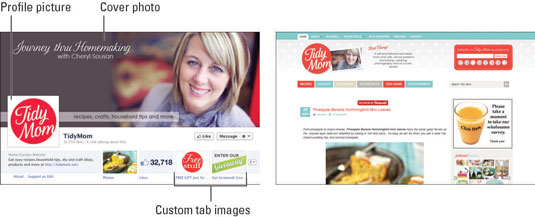 17
Facebook business page
The two main areas of your Facebook page are the large cover photo and the profile picture. Cover photos give you a chance to show imagery that represents your blog; a profile picture can feature you or your blog logo.
Cover photos should be resized to 851 x 315 px; profile pictures to 180 x 180 px. You can customize Facebook tabs with images sized to 111 x 74 px and a maximum file size of 5MB. Cover photos can contain text, as long as it doesn't cover more than 20 percent of the image.
You might include price or purchase information, a blog address, or calls to action, such a Like, Share, "Buy now" or "Get this offer."

27
Twitter
Followers (or potential followers) may visit your Twitter profile to learn more about you, so your profile should reflect your blog's style and personality. Andy and Charlie from How to Be a Dad (@HowToBeADad) pull in elements from their blog design while adding a personal touch by showing themselves as well.
A Twitter profile has three main visual elements: a small profile picture (upload a large image and let Twitter resize it to 81 x 81 px), a header image (1252 x 626 px; Twitter resizes to 520 x 260 px), and a background (1920 x 1080 px covers even large screen sizes).
Your background should place any graphics on the right, putting text on the left, since this is the part of a background that nearly everyone can see. Consider a width of approximately 66 px your safe zone for key information (like text).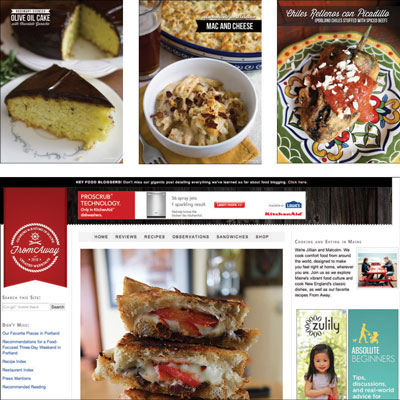 37
Pinterest
Pinterest can drive mega traffic to many types of blogs, from food blogs to fashion blogs. Because Pinterest focuses heavily on images, some bloggers create a Pinterest-friendly image (with a title) for their blog posts. To keep Pinterest images interesting, consider designing a few templates and base them off part of your blog design. Don't be afraid to go outside your color scheme and use colors that complement your design.

47
E-books
After downloading your e-book, a visitor no longer needs to visit your blog to retrieve it. In fact, if you sell your e-book on another site (such as Amazon), your e-book reader may never even have to visit your blog at all. For this reason, you need to design your e-book (at the very least, your e-book cover) so people who view it can connect the e-book with your blog.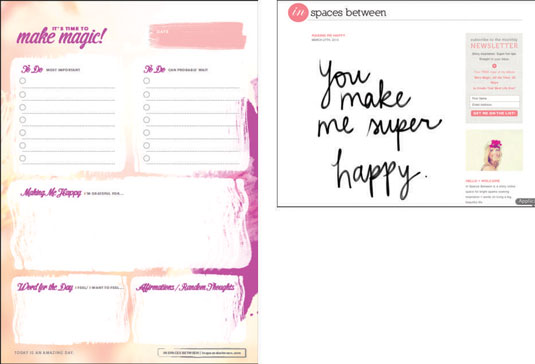 57
Printables
A printable is typically a PDF that readers can download and print, and they are a great way to drive traffic to a blog. Designing a printable to complement your blog design increases your blog's brand recognition. Including your blog's name and design in the printable also helps if someone forgets from whose blog they actually got the printable.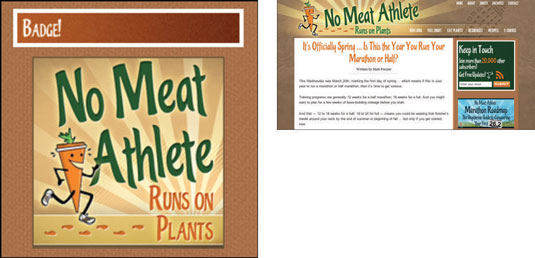 67
Blog Badges
Some bloggers create badges for their blogs so that other bloggers or websites can display the badge and link back to the blog. Your blog badge might be displayed on a fellow blogger's sidebar to show adoration for your blog. You might even use the badge for an ad or at the end of a guest post or contributor post on another website.
Because a blog badge represents your blog, the badge's design should take all its design cues from your overall blog design. Badges are typically 125 x 125 px or slightly larger at 150 x 150 px. You don't have much space to work with, so stick with your blog name, colors, and maybe a design element of some sort.

77
Slides for Videos and Presentations
Infusing your blog design into videos and presentations is especially important if you publish videos and presentations online but away from your blog. For videos, create a title slide and slides that divide a longer video into sections. Pull colors, fonts, and recognizable design elements into your slides. For presentations, add images to your master slides in a program like Microsoft PowerPoint.