How to Install a Programming Editor for Ruby in Mac OS X
How to Install a Programming Editor for Ruby in Mac OS X
After you have Ruby, Homebrew, and associated developer software, which includes the gem Gosu, ready to go, you need a programming editor for Ruby. To install Atom, follow these steps: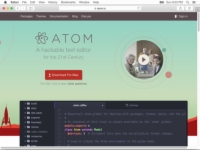 1

In your browser, go to Atom Installer and click the Download for Mac button.

Atom is a free, powerful code editor that can be used for programming many different computer languages. It works well with Ruby.

Depending on the settings of your browser, the Atom download archive may automatically uncompress or a zip file may be placed in your Downloads folder.
2

Drag the Atom icon to your Applications folder.

If you see a zip file rather than the Atom icon, double-click the zip file to uncompress it manually.