How to Install Python on a Windows System
How to Install Python on a Windows System
The Python installation process on a Windows system follows the same procedure that you use for other application types. The main difference is in finding the file you downloaded so that you can begin the installation process. The following procedure should work fine on any Windows system, whether you use the 32-bit or the 64-bit version of Python.
1

Locate the downloaded copy of Python on your system.

The name of this file varies, but normally it appears as python-3.3.4.msi for 32-bit systems and python-3.3.4.amd64.msi for 64-bit systems. The version number is embedded as part of the filename. In this case, the filename refers to version 3.3.4.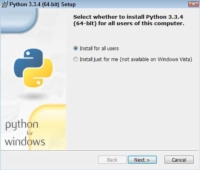 2

Double-click the installation file.

You may see an Open File – Security Warning dialog box that asks whether you want to run this file. Click Run if you see this dialog box pop up. You see a Python Setup dialog box. The exact dialog box you see depends on which version of the Python installation program you download.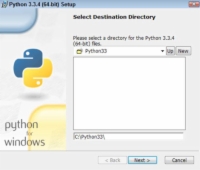 3

Choose a user installation option and click Next.

Install asks you to provide the name of an installation directory for Python. Using the default destination will save you time and effort later. However, you can install Python anywhere you desire.

Using the Windows Program Files or Program Files (x86) folder is problematic for two reasons. First, the folder name has a space in it, which makes it hard to access from within the application. Second, the folder usually requires administrator access, so you'll constantly battle the User Account Control (UAC) feature of Windows if you install Python in either folder.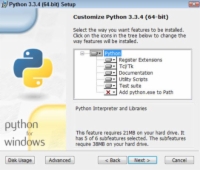 4

Type a destination folder name, if necessary, and click Next.

Python asks you to customize its installation.

Enabling the Add python.exe to Path option will save you time later. This feature makes it possible to access Python from the Command Prompt window. Don't worry too much about how you use this feature just yet, but it really is a good feature to have installed.
5

Click the down arrow next to the Add python.exe to Path option and choose the Will Be Installed On Local Drive option. Click Next.

You see the installation process start. At some point, you might see a User Account Control dialog box asking whether you want to perform the install. If you see this dialog box, click Yes. The installation continues and you see an Installation Complete dialog box.
6

Click Finish.

Python is ready for use.