10 Helpful Minecraft Survival Tips
10 Helpful Minecraft Survival Tips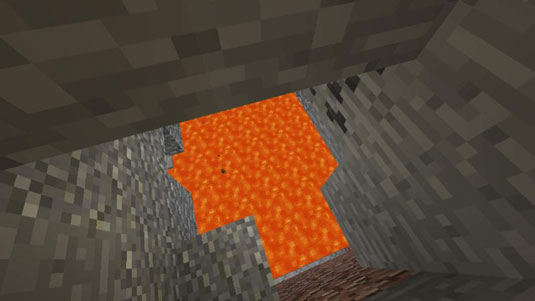 110
Dig safely.
Digging underground in Minecraft presents quite a bit of danger, so mine carefully to avoid falling when digging straight down and falling sand and gravel or flowing lava when digging upward.
Breaking the block underneath you always increases the danger of falling into a pit or a pool of lava, as shown. Staircase mines are useful because they don't require you to dig straight down.
Quickly stop flowing lava with blocks such as cobblestone.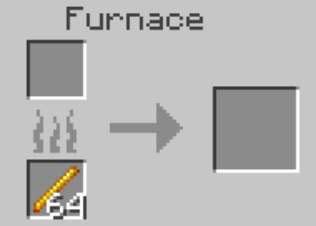 210
Cook efficiently.
Sometimes you want to cook or smelt a large amount of material such as beef to turn into steak or sand to burn into glass. Because you need a furnace and a plentiful source of fuel for this task, managing fuel efficiently is obviously an important skill.
You can cook with coal or any other hot or flammable material. Here are the best resources to use: wooden plank, coal, blaze rod, and lava bucket.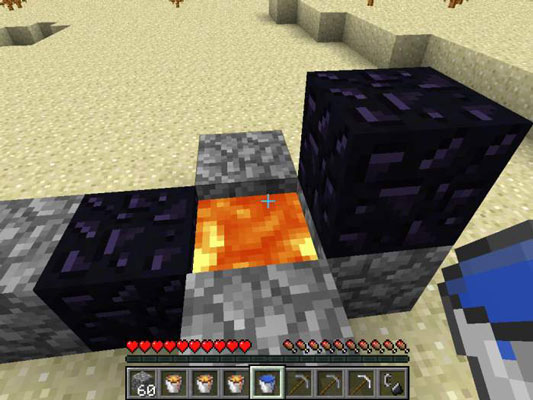 310
Obtain obsidian and portals quickly.
If you're playing in Survival mode and you're itching to go to the Nether, gather obsidian as fast as possible. Even if you can't find the diamond you need for a pickaxe, you can still build a portal as long as you can find some lava.
Simply use a bucket to place some still lava in the location where you want to place the obsidian, and then dump water over the lava to harden it. Use cobblestone or another nonflammable block to form the "mold" for the portal and to form the container for the lava.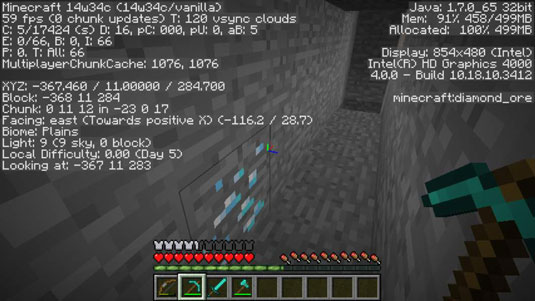 410
Mine in the right location.
Denser ores such as redstone and diamond appear deep underground, but they're statistically common about 10 blocks above the bedrock layer. However, this spot is also abundant in lava, which you can (mostly) evade by remaining 11 blocks above bedrock.
To find a good spot to mine, you can dig down to this level: Either descend to bedrock and then move back up 11 blocks, or press F3 and dig until the y-coordinate is 11 — or find a sufficiently deep cave. Digging a tunnel stays more consistently at this depth, though a cave provides a larger surface area to search for minerals.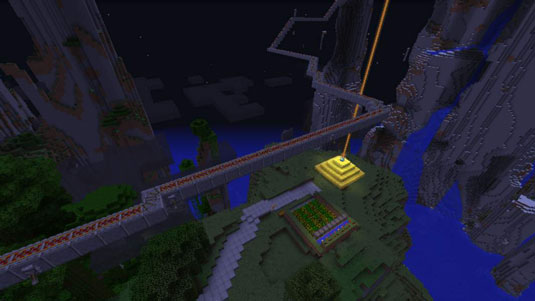 510
Avoid overexertion.
An action such as sprinting or jumping or suffering damage makes you hungry quite quickly. Hunger can become irritating when you need a lot of food in order to stay on your feet. Follow these guidelines to avoid exerting yourself:
Build roads with slabs and stairs.
Connect your destinations with a minecart track.
If you're using a staircase mine, use actual stair blocks.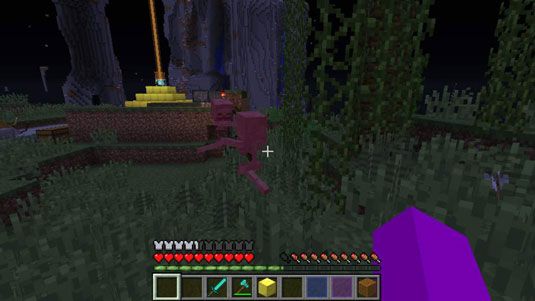 610
Defeat basic mobs.
You have to face zombies, spiders, creepers, and skeletons many times during your Minecraft experience. Each creature requires you to have a unique fighting style in order to defeat it. This list describes how to defeat each of these enemies (in order, from least to most threatening):
Zombie
Spider
Creeper
Skeleton
In addition, you can defeat a lot of these mobs easily by beating them into pits, cacti, or lava.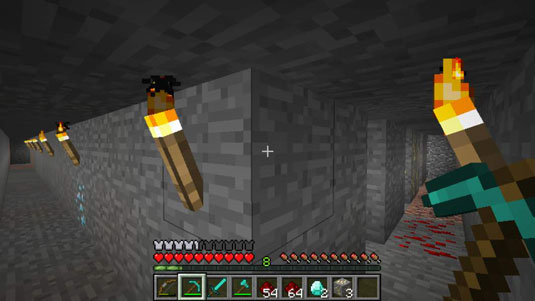 710
Obtain experience points.
To advance into enchanting as you advance and explore through the game, you need experience. Mobs, breeding, and mining diamond, redstone, coal, emerald, and nether quartz ore give you experience.
On Levels 5–12, you can obtain diamonds in large numbers, and because your character is 2 blocks tall, you can get both Level 11 and Level 12. Levels 1–10 are where lava lakes form. Staying away from lava lakes and getting the most out of your diamonds through things like creating enchantment tables, or nether reactor cores, makes Levels 11 and 12 the best places to gain the greatest amount of experience.
You should strip-mine these two levels.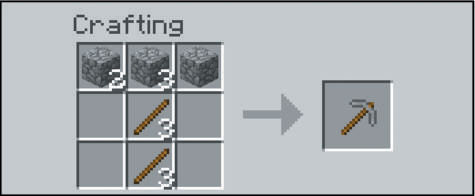 810
Craft quickly.
You can craft material in several ways:
Right-click a bunch of materials to split them in half. Even if the materials are on the crafting grid, you can craft many items at a time, such as slabs or ladders.
Shift-click surplus materials when you finish crafting. This action returns the materials to the inventory.
Craft several items at a time. The figure shows an efficient way to craft three tools at a time. When you take the axe, the remaining materials form a hoe, and the layer beneath it forms a shovel.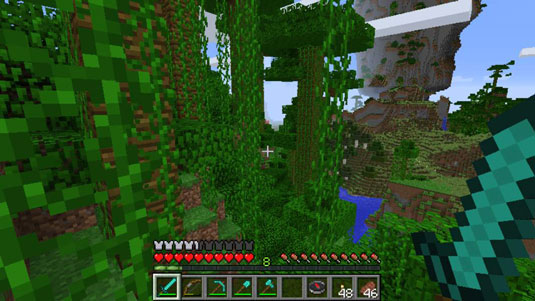 910
Check basic equipment.
After playing Minecraft for a while and growing more confident in your ability to survive, you can keep more items in the inventory and worry less about losing them. Then you can work more efficiently and return home less often.
Always carry in the inventory certain equipment and supplies on a Minecraft exploration — as long as you know how to keep them safe: food; weaponry; pickaxe, axe, and shovel; torch; and compass.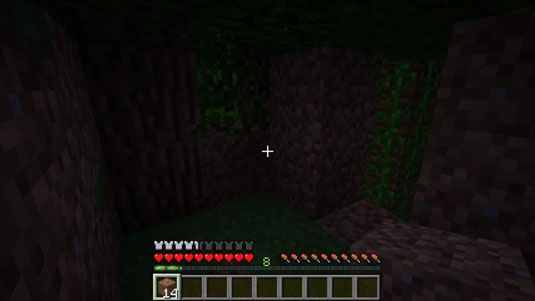 1010
Find natural comfort.
If you need shelter before dark in the hills or the jungle for safety overnight, find an enclosed area (a shallow cave, natural copse, or large tree, for example) and fill in the cracks with blocks to turn it into a natural-looking house.