Virtualizing Desktops in the Cloud
Virtualizing Desktops in the Cloud
One of the best ways to create virtual desktops is to use one of several cloud-based desktop virtualization platforms such as Amazon WorkSpaces. An advantage of a service like Amazon WorkSpaces is that you don't have to invest in the hardware infrastructure necessary to support the desktop virtualization platform. Instead, you just subscribe to Amazon WorkSpaces and, with a few mouse clicks, you can easily deploy virtual desktops.
Here are the steps to getting started with Amazon WorkSpaces: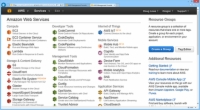 After your account is set up, you'll see a list of the dozens of virtual services that are available from Amazon Web Services, as shown.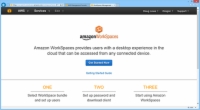 2

Scroll to the bottom of the page and click WorkSpaces.

You're taken to the WorkSpaces welcome page, as shown. This page indicates that there are three basic steps to getting started with WorkSpaces: First, choose your WorkSpaces bundle and create your user account. Second, create passwords and download the WorkSpaces client software. And third, launch your WorkSpaces and start using it.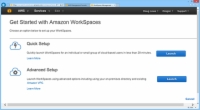 3

Click Get Started Now.

You're taken to the Get Started page, which lets you choose the Quick Setup or Advanced Setup option, as shown.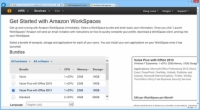 4

Click the Quick Setup Launch button.

The page shown here appears. Here, you can choose the bundle you want to use.
5

Click Launch WorkSpaces.

This starts your WorkSpaces. Follow the instructions on the screen to start using it.