Network Administration: E-Mail Forwarder Creation
Network Administration: E-Mail Forwarder Creation
A forwarder is a feature that automatically forwards any incoming e-mail to another e-mail address. This feature is most often used when an employee is on vacation or leave and the employee's manager has requested that someone else temporarily handles the absent employee's e-mail.
To configure a forwarder, follow these steps:
1

Choose Start→Administrative Tools→Microsoft Exchange Server 2010→Exchange Management Console.

This fires up the Exchange Management Console. In the Navigation pane, navigate to Microsoft Exchange→Microsoft Exchange On-Premises→Recipient Configuration.
2

Right-click the mailbox for the user whose e-mail you want to forward and choose Properties.

This summons the mailbox Properties dialog box.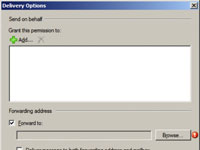 4

Double-click Delivery Options.

The Delivery Options dialog box appears. Select the Forward To check box.
6

Select the recipient you want to forward the e-mail to and then click OK.

The name you selected is displayed in the text box next to the Browse button.
7

If you want the e-mail to be delivered to this user's mailbox in addition to the forwarding address, select the Deliver Message to Both Forwarding Address and Mailbox option.

If you leave this option deselected, only the forwarding address will receive the e-mail — the mail won't be delivered to this user's mailbox.
8

Click OK, then click the next OK.

The first OK click returns you to the mailbox Properties dialog box, and the second dismisses the dialog box.