Network Administration: Configuring Samba Users
Network Administration: Configuring Samba Users
You must create a separate Samba user account for each network user who needs to access the Samba server. In addition, you must first create a Linux user account for each user. The Samba user account maps to an existing Linux user account, so you must create the Linux user account first.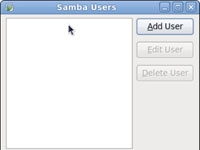 1

From the Samba Server Configuration window, choose Preferences→Samba Users.

The Samba Users dialog box appears.
3

From the Unix Username drop-down list, select the Linux user that you want this user to log on as.

If you forgot to create the Linux user account for this user, choose System→Administration→Users and Groups and create the account now.
4

Enter the Windows username for the user.

This is the name of the user's Windows user account. Type the user's password into the password fields.
5

Click OK.

You're returned to the Samba Users dialog box, which should now list the user that you just created. Repeat steps for any other users you want to create.
6

After you're done, click OK.

The Samba Users dialog box is dismissed.