How to Join Your Network to a Domain via Windows 10
How to Join Your Network to a Domain via Windows 10
When Windows first installs, it isn't joined to a domain network. Instead, it's available as part of a workgroup, which is an unmanaged network suitable only for the smallest of networks with just a few computers and without dedicated servers. To use a computer in a domain network, you must join the computer to the domain. Here are the steps for Windows 10: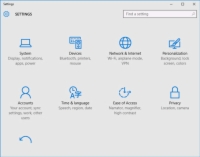 1

Click the Start icon (or press the Start button on the keyboard), and then tap or click Settings.

The Settings page appears.
4

(Optional) To change the name of the computer, click Rename PC.

You'll be prompted to enter a new name, and then reboot the computer.

Before you join a domain, you should ensure that the computer's name won't be the same as the name of a computer that's already a member of the domain. If it is, you should first change the name.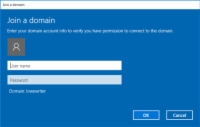 6

Enter the domain name and click Next.

You're prompted for the username and password of a user who has administration privileges on the domain. Click OK.
7

Enter the username and password for an Administrator account when prompted.

You're asked to provide this information only if a computer account hasn't already been created for the client computer.
8

When informed that you need to restart the computer, click Restart Now.

The computer is restarted and added to the domain.