How to Join a Mac to a Windows Networking Domain
How to Join a Mac to a Windows Networking Domain
If you are using a Mac on a network in a Windows domain environment, you can join the Mac to the domain by following these steps: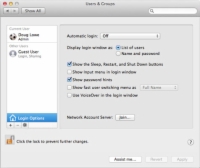 2

Select the user account you want to join to the domain, then click Login Options.

The Login Options page appears.
3

If the lock icon at the bottom-left corner of the page is locked, click it and enter your password when prompted.

By default, the user login options are locked to prevent unauthorized changes. This step unlocks the settings so that you can join the domain.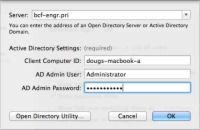 5

Enter the name of the domain you want to join.

When you enter the domain name, the dialog box will expand to allow you to enter domain credentials to allow you to join the domain.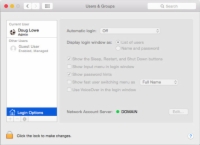 6

Enter the name and password of a domain administrator account, then click OK.

You are returned to the Login Options page, which shows that you have successfully joined the domain.
7

Close the Users & Groups window.

Congratulations! You have now joined the domain.