Make Objects Available in Amazon Web Services
Make Objects Available in Amazon Web Services
Uploading the first file to Amazon Web Services (AWS) is half the battle. Next, all you have to do, via a browser, is access the picture you just uploaded. Before you can do that, however, you need to set permissions on the object to make it available over the Internet to someone other than the owner (that's you, by the way). To do that, follow these steps:
2

Click the Properties button in the upper-right corner of the screen.

Doing so brings up a pane filled with all kinds of information about the selected object.

You can also access a file's Properties information by right-clicking a selected file and choosing Properties from the menu that appears.
3

Click the arrow next to Permissions.

The Permissions section expands to show the Permissions information. You should see only yourself listed next to Grantee as someone able to access the file. You need to add a permission so that others can access the file as well.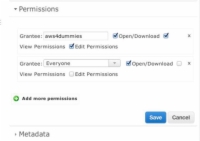 4

Click the Add More Permissions link.

An additional drop-down menu (labeled Grantee as well) appears below the first menu.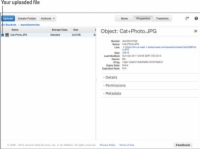 5

Choose Everyone from this second drop-down menu, select the associated Open/Download check box (refer to this figure), and then click Save.

The file is now accessible to everyone. To access it, you only have to track down the URL you want to use.
6

Go back to the Properties screen.

Here you will see a panel of information on the object, including its URL.