Translating Your Digital Image Camera Raw Files to Use on Your Computer
Translating Your Digital Image Camera Raw Files to Use on Your Computer
Some digital cameras allow you to take pictures in the Camera Raw file format. You can't open Camera Raw image files on your computer without running them through a Raw converter. Convert Camera Raw files in Elements (or similarly in whatever converter you use):
1

Transfer your Camera Raw image files to your computer.

Use whatever method you normally do to transfer photos.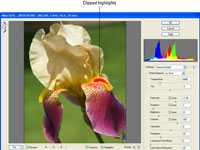 3

Track down the file and click Open.

Elements recognizes that the file is in the Raw format and launches the Camera Raw window.
4

Use the controls to tweak the image appearance, if necessary.

The Depth drop-down list controls the image bit depth. The Settings drop-down list is set to Camera Default until you adjust any controls. The Luminance Smoothing and Color Noise Reduction sliders remove noise from the image. If you turn on the Shadows and Highlights controls, Elements indicates shadows and highlights that are clipped at the current settings.
5

Click OK to finish opening the file, then choose File→Save As.

This opens the Save As dialog box.
6

Save the file in a standard image format.

You can save your image file in your photo editor's native format — in Elements, that's the PSD format. Another good option is the TIFF format.