View Photos in a Self-Running Slide Show in Photoshop Elements 10
View Photos in a Self-Running Slide Show in Photoshop Elements 10
Manually clicking arrows to view slides is more work than you need to do. With just a few adjustments, Photoshop Elements 10 can autoplay a slide show complete with background music.
To sit back and enjoy your slide show without clicking a mouse button to advance slides, do the following:
1

Select images that you want to see in a slide show in the Organizer window.

Viewing files in slide show mode can be helpful for quickly previewing the files you want to edit for all kinds of output, as well as for previewing photos that you might use for an exported slide show.
2

Press the F11 key (Fn+Command+F11 on the Macintosh) to change the view to Full Screen mode.

Full Screen view takes you to a slide show view.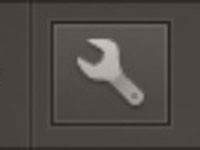 3

Click the Change Settings tool on the toolbar at the bottom of the window.

The Full Screen View Options dialog box opens.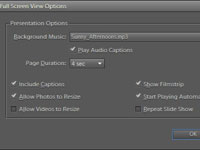 4

Make adjustments in the Full Screen View Options dialog box.

Select the Start Playing Automatically check box. When the box is selected, the slide show plays automatically. By default, you also have an audio file play for the duration of the slide show.
5

Click OK and watch the show.

Press Esc when you're finished viewing the slide show.

You can make choices for the music you want played when viewing a slide show by clicking the Browse button and selecting an audio file from your hard drive. You can determine the slide interval by specifying the value in the Page Duration text box, and make choices for viewing captions and resizing photos before dismissing the Full Screen View Options dialog box.