Use the Photoshop Elements 10 Downloader
Use the Photoshop Elements 10 Downloader
When you insert a media card from a camera or attach a camera to your computer via a USB port, you see an Autoplay Wizard on Windows or a dialog box for importing photos into iPhoto on the Macintosh. Cancel out of the dialog box and let Elements control your import.
Use a media card instead of attaching your camera in case the battery is low on your camera. If the battery runs out, the import stops. If you have a media card for your camera, take it out and insert it into a card reader that you attach to your camera via a USB port.
When the card is inserted into a card reader and attached to your computer, choose File→Get Photos and Videos from Camera or Card Reader, or press Ctrl+G (Command+G on the Macintosh). The Photoshop Elements Organizer – Photo Downloader opens.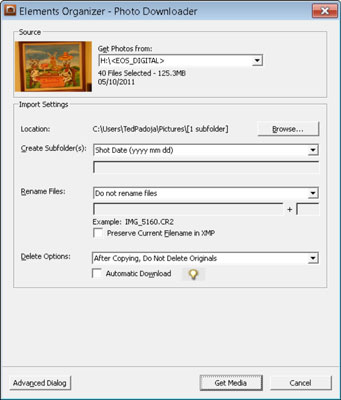 In the Photo Downloader, open the drop-down menu at the top of the dialog box and choose your media card. Click the Browse button and locate the folder on your drive where you want to copy the photos.
Leave the rest of the settings at the defaults. Don't rename the photos here. You can take care of file renaming in the Organizer later. Don't delete the photos from your card just in case you delete some photos in the Organizer and want to retrieve them. After you're certain everything in Elements is to your liking, you can later delete photos using your camera.
There's an Advanced dialog box for the Downloader that you access by clicking the Advanced Dialog button. In the Advanced settings, you can make choices for things like correcting for red-eye, creating photo stacks, and editing photo data (metadata). Because you can handle all these tasks in Elements, just leave the Advanced settings at their defaults and import photos by clicking the Get Media button in the first dialog box.