Use Scanner Plug-Ins with Photoshop Elements 10
Use Scanner Plug-Ins with Photoshop Elements 10
When you install your scanner software, a standalone application and a plug-in are installed to control the scanning process. Plug-ins are designed to work inside other software programs, such as Photoshop Elements. When you're using the plug-in, you can stay right in Elements to do all your scanning.
After installing a new scanner and the accompanying software, launch Elements and then open the Organizer by clicking Organize on the Welcome screen. From the Organizer, open the Preferences dialog box by pressing Ctrl+K. Click Scanner in the left column and adjust the Scanner preferences.
When the Preferences dialog box displays your scanner, you know that the connection is properly set up and you're ready to scan. Here's how to complete your scan:
1
To open the scanner software from within Elements, choose File→Get Photos→From Scanner.
You must be in the Organizer window on Windows to access the File→Get Photos→From Scanner menu command.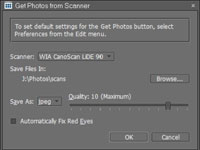 2
In the Get Photos from Scanner dialog box that appears, make your choices and click OK.
Here you can choose your scanner in the Scanner drop-down menu, a location on your hard drive for saving the scanned images, a quality setting, and an option to automatically correct red-eye.
Elements may churn a bit, but eventually your scanner software window appears atop the Organizer window. The window is the scanner software provided by your scanner manufacturer.
4
Adjust the options according to your output requirements and the recommendations made by your scanner manufacturer.
Regardless of which software you use, you should have similar options for creating a preview; selecting resolution, color mode, and image size; scaling; and other options.
5
When everything is ready to go, click the Scan button.
The final image drops into an Elements image window.