Print Photos with Photoshop Elements 10 Managing Color
Print Photos with Photoshop Elements 10 Managing Color
One method for managing color when you're printing files in Photoshop Elements 10 is to select a printer profile from the available list of color profiles installed with your printer — let Photoshop Elements 10 manage the color.
Choose File→Print opens the Elements Print dialog box. To let Elements handle the color conversion, follow these steps in the Print dialog box:
1

Choose File→Print.

In the Print dialog box, click More Options to open the More Options dialog box. Click Color Management in the left pane to display the color management options.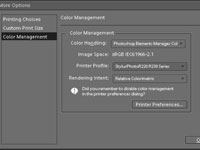 2

From the Printer Profile drop-down menu, select the color profile designed for use with the paper you've chosen.

In this example, use a profile designed for a specific printer. (Note that custom color profiles you acquire from a profiling service come with recommended color-rendering intents. For this paper, Relative Colorimetric is recommended and is selected on the Rendering Intent drop-down menu.)
3

Click OK.

The second Print dialog box opens.
5

Click the Best Photo radio button.

From the Type drop-down menu, select the recommended paper choice. On the Macintosh, you make your paper choice.

Custom color profiles are also shipped with guidelines for selecting proper paper.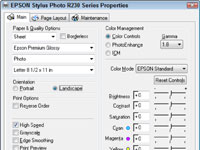 6

Click Advanced and click Continue to arrive at the dialog box shown.

On the Macintosh, you choose Color Management from the pop-up menu.

The paper choice selection is automatically carried over from the previous Properties dialog box. The one setting you change is in the Color Management section.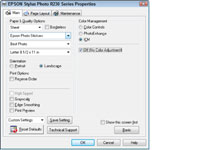 7

Click the ICM (Image Color Management) radio button and check Off (No Color Adjustment).

On the Macintosh, click the Off (No Color Adjustment) radio button.

Because you selected the color profile in Step 2 and you're letting Elements manage the color, be sure the Color Management feature is turned off. If you don't turn off Color Management, you end up double-profiling your print.