Photoshop Elements 10 Workspace Shortcuts
Photoshop Elements 10 Workspace Shortcuts
Photoshop Elements has two separate components: the Organizer and the Full Photo Edit mode. Manage photos in the Organizer. In Full Photo Edit mode, correct brightness and color in photographs, add effects, and repair photos. After starting Photoshop Elements, choose the Organizer or Full Photo Edit mode.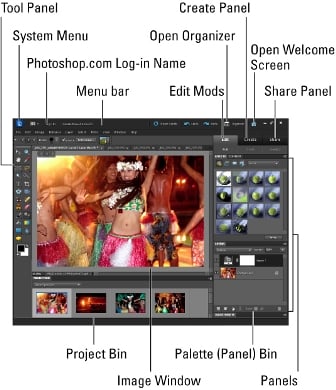 To Do This…
Do This
Open an image in the Elements Full Photo Edit mode.
Choose File→Open.
Get information about your image.
Look at the status bar. Click the right-pointing arrow to get
more details regarding your document.
See detail in your image.
Press Ctrl+spacebar and click. (Zoom back out by pressing
Alt+spacebar and clicking.)
Easily switch between open documents.
Click images in the Project Bin.
Access panels.
Choose them from the Window menu or the Panels Bin.
Show files from the Organizer.
Select options in the Show Open Files drop-down menu in the
Project Bin.