How to Print Images from Photoshop Elements 11
How to Print Images from Photoshop Elements 11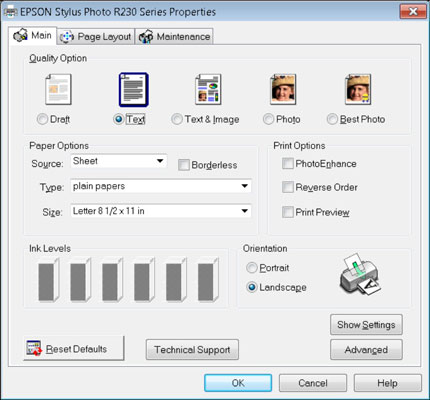 16
Open a file in the Photo Editor and choose File→Print.
The Print dialog box that opens contains all the settings you need to print a file. When you want to manage color, print from the Photo Editor and not the Organizer.
Select the orientation of your print. You can choose either Portrait or Landscape. Select the proper orientation in the Page Setup dialog box.
Select your printer from the Select Printer drop-down menu. Set the print attributes. Select the number of copies, position, scaling, and output items you want.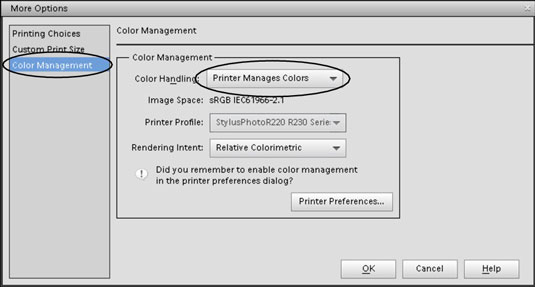 26
Click the More Options button and choose Color Management in the More Options dialog box.
In the Color Management area of the More Options dialog box, you choose how to manage color when you print files.
From the Color Handling drop-down menu, select Printer Manages Color; click OK in the More Options dialog box. This choice uses your current workspace color and later converts the color from your workspace to the printer output file when you open the printer driver dialog box.
Click the Print button in the Print dialog box. The file doesn't print yet. First, the Windows system Print dialog box opens (Mac OSX Print dialog box on the Macintosh). Go to the next step if you use Windows or skip the next step if you use a Mac.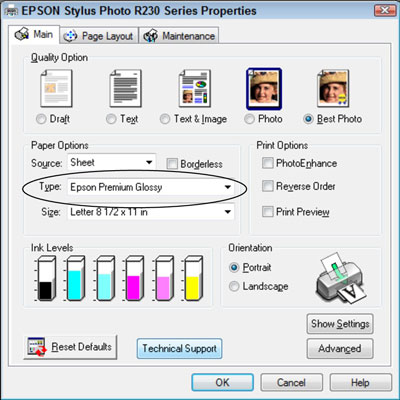 36
(Windows only) Click the Preferences button, and the Printing Preferences dialog box opens; skip to Step 10.
Click Preferences in the first dialog box that opens, and the selected printer preferences opens.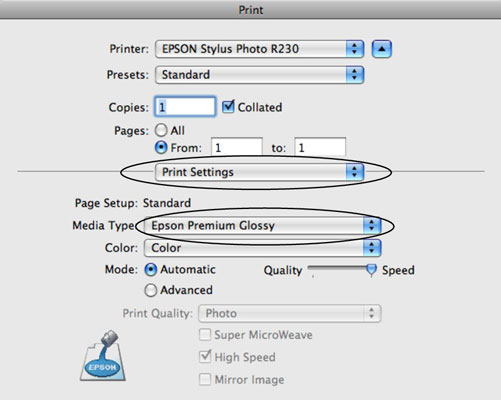 46
(Mac OS X only) In the Print dialog box that opens, you can choose to open the pop-up menu below the Pages item and choose Print Settings.
From the Media Type pop-up menu, choose the paper for your output.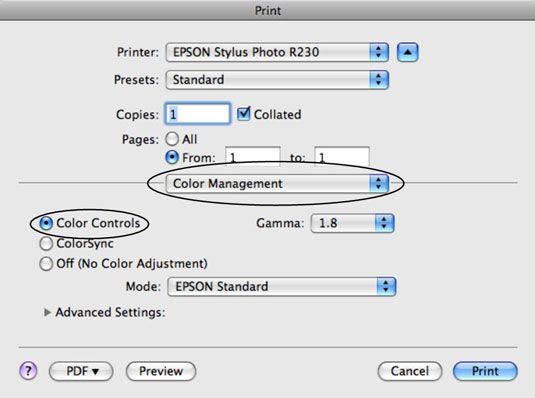 56
Make the selection for Color Management. Open the Print Settings pop-up menu and choose Color Management.
Leave the default setting at Color Controls. (This setting is used when the printer manages color.)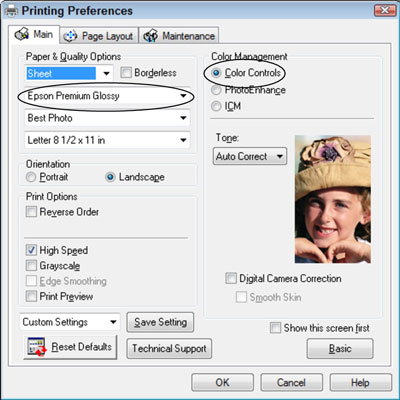 66
Set print attributes.
In the Epson example, select Epson Premium Glossy (or another paper from the Type drop-down menu that you may be using) and then click the Best Photo radio button. Now, it's time to color-manage your file. This step is critical in your print-production workflow.
Click the Advanced button and then, in the Warning dialog box that appears, simply click the Continue button. The advanced settings in the Printing Preferences dialog box open.
Make your choices in the advanced settings of the Printing Preferences dialog box. If you frequently print files using the same settings, you can save your settings by clicking the Save Setting button.
To print the photo, click OK and then OK again in the Print dialog box. Your file is sent to your printer. The color is converted automatically from your source workspace of sRGB or Adobe RGB (1998) to the profile the printer driver automatically selects for you.