How to Create a Photomerge Group Shot in Photoshop Elements 11
How to Create a Photomerge Group Shot in Photoshop Elements 11
Getting a group of people to smile, not blink or fidget, and look in the same direction is about as easy as herding cats. With Photoshop Elements 11, you no longer have to worry about snapping the perfect group shot anymore. Just take a bunch of shots and later create the ultimate perfect shot by compositing those shots using Photomerge Group Shot.
Here are the steps to create a Photomerge Group Shot image:
1

In any of the Photo Editor modes, select two or more photos from your Photo Bin at the bottom of your Image window. Choose Enhance→Photomerge→Photomerge Group Shot.

The Photomerge Group Shot dialog box appears.
2

Take your best overall group shot and drag it from the Photo Bin onto the Final pane.

Select another photo in the Photo Bin to use as your source image and then drag it to the Source pane.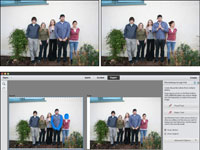 3

With the Pencil tool, draw a line around the portions of the source photo you want to merge into your final photo.

In the Options area on the right side of the dialog box, you can choose to show the yellow pencil strokes (Show Strokes) or show regions (Show Regions), which are then highlighted with a blue overlay. Use the Eraser tool to remove any portions you don't want merged onto the final image.
4

Repeat the last couple of with any remaining photos.

If your photos aren't aligned, you can use the Alignment tool under Advanced Options.
5

Using the Alignment tool, click the source image and position the three target markers on three key locations.

Do the same on the final image and choose similar locations.

You can click the Pixel Blending option to better blend pixels.
6

Click the Align Photos button.

Again, as with Photomerge Panorama, the more similar (in framing, size, lighting, and so on) that your source and final images are, the better the merged result.