How to Create a New Catalog in Photoshop Elements
How to Create a New Catalog in Photoshop Elements
A great option for dealing with large numbers of photos is to create separate catalogs in Photoshop Elements 11. If you have lots of pictures — perhaps numbering in the hundreds or even thousands — you can still add each and every one of these photos to a single catalog. However, doing so slows down the performance in the Organizer and makes searching for photos a bit more difficult.
You might have a number of photos that were taken at some event or special occasion and want to create a separate, new catalog to manage just those files. Here's how you go about creating a new catalog:
2

In the Catalogs section of the Catalog Manager, choose an accessibility level (Windows).

By default, your catalog is accessible to all users. If you have several logons for different users, all users can access the catalog.

On the Macintosh, the catalog is always accessible to the current user. If multiple users access the same computer, the catalog files created by other users cannot be viewed by the current user. For multiple user access, you can use the default OSX Public folder or use an external hard drive for storing photos.

If you want to make the catalog accessible only to you and not to others logging on to your computer, select the Catalogs Accessible by the Current User radio button.
3

Choose a location.

If you don't change the settings, the catalog is saved to a default location. If you want to save the catalog to the folder of your choice, select the Custom Location radio button and click the Browse button to select a folder on your hard drive in which you want to store the catalog.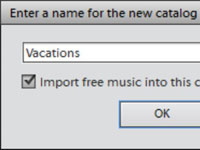 4

Click the New button in the top-right corner of the Catalog Manager.

The Enter a Name for the New Catalog dialog box opens.
5

Type a name for your new catalog.

If you want to import free music files for later use when creating slide shows, select the Import Free Music into This Catalog check box in the Enter a Name for the New Catalog dialog box.
6

Click OK.

You return to the Catalog Manager, and the new catalog is listed below your default catalog.
7

Click OK in the Catalog Manager.

The new catalog opens in the Organizer with an empty screen.

One Elements limitation is that it has no option for moving images between catalogs.

You can create multiple catalogs by following the same steps. To change a catalog, choose File→Manage Catalogs. In the Catalog Manager, click a catalog name and click Open. The newly selected catalog is now the default and is available in all Elements sessions until you change the catalog again.