How to Apply One-Step Auto Fixes in Photoshop Elements 11
How to Apply One-Step Auto Fixes in Photoshop Elements 11

15
Auto Smart Fix
This all-in-one command attempts to adjust it all. Auto Smart Fix is designed to improve lighting, improve the details in shadow and highlight areas, and correct the color balance. The overexposed image on the left was improved with the Auto Smart Fix command.
The Auto Smart Fix command, as well as the Auto Color, Auto Levels, Auto Contrast, Auto Sharpen, and Auto Red Eye Fix, are available in the Organizer in the panel on the right, where you can apply the commands to several selected images simultaneously.
If the Auto Smart Fix didn't quite cut it, you can ramp it up and try Adjust Smart Fix. This command is similar to Auto Smart Fix, but it gives you a slider that allows you to control the amount of correction applied to the image.

25
Auto Levels
The Auto Levels command adjusts the overall contrast of an image. This command works best on images that have pretty good contrast (detail in the shadow, highlight, and midtone areas) to begin with and just need a little adjustment, but it can also work wonders for seemingly unsalvageable images.
Auto Levels works by mapping, or converting, the lightest and darkest pixels in your image to black and white, which makes highlights appear lighter and shadows appear darker.
Although Auto Levels can improve your contrast, it may also produce an unwanted colorcast (a slight trace of color). If a colorcast happens, undo the command and try the Auto Contrast command instead.

35
Auto Contrast
The Auto Contrast command is designed to adjust the overall contrast in an image without adjusting its color. This command may not do as good a job of improving contrast as the Auto Levels command, but it does a better job of retaining the color balance of an image. Auto Contrast usually doesn't cause the strange colorcasts that can occur when you're using Auto Levels.
This command works really well on images with a haze.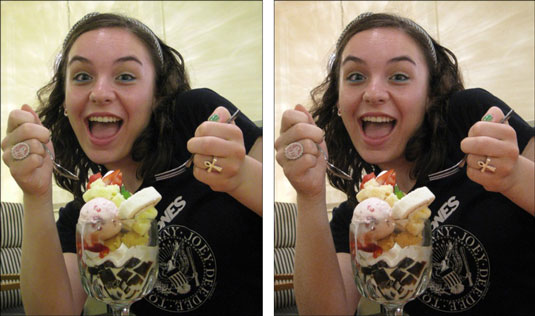 45
Auto Color Correction
The Auto Color Correction command adjusts both the color and contrast of an image, based on the shadows, midtones, and highlights it finds in the image and a default set of values. These values adjust the number of black and white pixels that Elements removes from the darkest and lightest areas of the image.
You usually use this command to remove a colorcast or to balance the color in your image. Sometimes this command can be useful in correcting over- or undersaturated colors.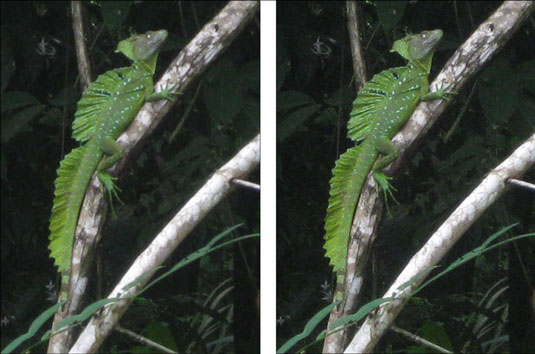 55
Auto Sharpen
Sometimes photos taken with a digital camera or scanned on a flatbed scanner can appear soft, meaning slightly out of focus. Sharpening gives the illusion of increased focus by increasing the contrast between pixels. Auto Sharpen attempts to improve the focus without going too far. What happens when you oversharpen? Your images go from soft to grainy and noisy.
Always make sharpening the last fix after you make all other fixes and enhancements. You don't want to sharpen nasty flaws and make them even more noticeable than they already are.