Create an Album in Photoshop Elements 10
Create an Album in Photoshop Elements 10
Creating keyword tags and assigning tags to photos helps you organize a collection of photos, and subcategories help you break down a collection into additional categories. With albums and star ratings, you can further break down a collection into groups that you might want to mark for printing, sharing, or onscreen slide shows.
To create an album, follow these steps: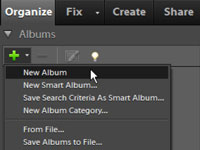 1

Click the plus (+) icon on the Albums panel and choose New Album from the drop-down menu that appears.

The Albums panel expands to show the Album Details.
3

Drag photos from the Organizer to the items window in the Album Content panel.

Alternatively, you can select photos in the Organizer and click the plus (+) icon to add them to the album.
4

Click Done at the bottom of the panel.

Your new album now appears listed in the Albums panel.