Brushing a Selection Outline onto Your Digital Photo
Brushing a Selection Outline onto Your Digital Photo
Use a tool like Elements' Selection Brush for complex selection outlines. With this tool, you brush over the areas you don't want to alter, laying down a digital mask over those pixels. Using the brush tool is much easier than drawing freeform outlines with any of the freehand tools. Although the following steps use Elements, the basic approach applies to any photo-editing program: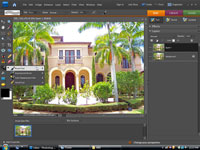 1

Grab the Selection Brush tool.

You can find this tool in the column on the right side of the Elements window.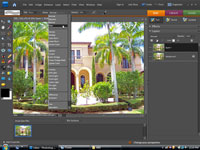 2

On the options bar, set the Mode control to Mask.

The options bar appears along the top of the window.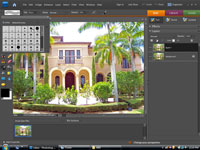 3

Display the Brushes palette by clicking the arrow labeled in this figure.

This arrow also appears in the options bar.
4

Select any of the round brushes from the first row of the palette.

On the options bar, use the Size control to adjust brush size, as needed.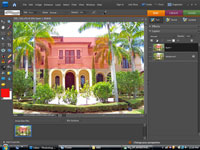 5

Drag over the areas you want to mask.

The pixels you touch are covered by a red, translucent overlay.
6

After you apply the mask to all the areas you don't want to alter, set the Mode control to Selection.

A selection outline appears around all the pixels that you didn't cover with the mask.