Nikon D3300: Manual Focusing during Live View
Nikon D3300: Manual Focusing during Live View
For manual focusing with the Nikon D3300's 18-55mm kit lens or a similarly featured Nikon lens, set the A/M switch on the lens to M. The camera automatically changes the Focus mode setting to MF (manual focus).
For other lenses, refer to the lens instruction manual to find out how to set the lens to manual focusing. Then rotate the lens focus ring to focus. (Refer to this figure for help locating the switch and focusing ring on the kit lens.)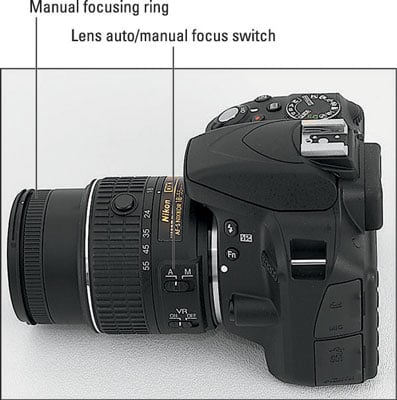 Note a few quirks:
Even with manual focusing, you still see the Live View focusing frame; its appearance depends on the current AF-area mode setting. In Face Priority mode, the frame automatically jumps into place over a face if it detects one.

And if you press OK when Subject Tracking mode is enabled, the camera tries to track the subject under the frame until you press OK again. If you find these two behaviors irritating, you can set the AF-area mode to Wide Area or Normal Area for manual focusing.

The focusing frame doesn't turn green to indicate successful focusing as it does with autofocusing.

You can press the Zoom In button to check focus in manual mode just as you can during autofocusing. Press the Zoom Out button to reduce the magnification level.