Connection Ports on the Nikon D3400
Connection Ports on the Nikon D3400
Hidden under the cover on the left side of the Nikon D3400 camera are the following connection ports, labeled in the photo shown on the left side of the figure:
USB port: Through this port, you can connect your camera to a USB port on a computer for picture downloading and to connect the camera to certain printers for direct printing of photos on the memory card. However, Nikon does not supply the USB cable with the camera; if you want to download or print via USB, buy the UC-E21 USB cable, which sells for about $12.

Before you rush out to get the cable, though, consider whether you really need it. Instead of connecting the camera directly to your computer for picture transfer, you can use a memory card reader. As for printing, many printers have built-in card readers, so you may not need the cable to enjoy that function, either. In addition, only printers that offer a technology called PictBridge support direct printing from the camera via a USB connection.

HDMI port: You can use this port to connect your camera to a high-definition TV, but again, you need to buy the required cable. Look for a Type C mini-pin HDMI cable.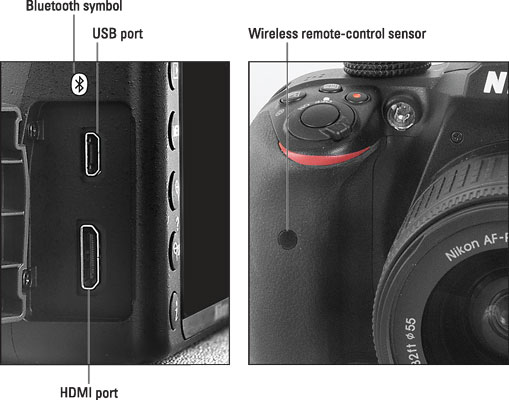 If you turn the camera over, you find a tripod socket, which enables you to mount the camera on a tripod that uses a 1/4-inch screw, plus the battery chamber. At the right edge of the battery-chamber cover, you also see a tab that you lift to expose the connector for the optional AC power supply. (More about that accessory momentarily.)
Two final features to note that relate to available accessories for your camera:
Wireless remote control: Although the D3400 doesn't work with a wired remote shutter-release cable, you can use the Nikon ML-L3 wireless remote. The camera has a single sensor for picking up the remote signal; the sensor is on the front of the camera, as shown on the right side.
AC adapter: If you regularly use your camera for extended periods, you may want to invest in an AC adapter, which enables you to power the camera via AC electrical power rather than the supplied battery. You need two components to make this work: the EP-5a power connector and the EH-5b AC adapter. The power connector goes into the battery compartment on the camera; the AC adapter plugs into the connector. The supply connector runs about $50; the AC adapter, about $120. Another option, of course, is to simply buy a spare battery (part EN-EL14a), which sells for about $60.
As for the Bluetooth symbol printed above the port cover door, it's just there to remind you that the camera can connect via Bluetooth wireless technology to compatible smart devices. This feature requires that you install a Nikon app, SnapBridge, on your device. The app is available only for certain versions of Android and Apple iOS operating systems.