Annotate Your Images on the Nikon D5200
Annotate Your Images on the Nikon D5200
Through the Nikon D5200's Image Comment feature on the Setup menu, you can add hidden text comments to your picture files. Suppose, for example, that you're traveling on vacation and visiting a different destination every day. You can annotate all the pictures you take on a particular outing with the name of the location or attraction.
The comment data is stored as part of the file metadata, which you can view in Nikon ViewNX 2, the free software that ships with your camera.
2

Press OK to display the right screen in the figure.

You see two options.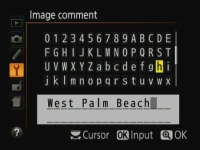 3

Highlight Input Comment and press the Multi Selector right.

A keyboard-type screen appears, as shown.
4

Use the Multi Selector to highlight the first letter of the text you want to add.

If you scroll the display, you can access lowercase letters in addition to the uppercase ones shown on the initial screen. Just press the Multi Selector up and down to scroll the display.
5

Press OK to enter that letter into the display box at the bottom of the screen.

The letter appears in the comment box.
6

Keep highlighting letters and pressing OK to continue entering your comment.

Your comment can be up to 36 characters long. To move the text cursor, rotate the Command dial in the direction you want to shift the cursor.

To delete a letter, move the cursor under the offending letter and then press the Delete button.
7

To save the comment, press the Zoom In button.

You return to the Image Comment menu.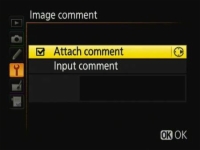 8

Highlight Attach Comment and press the Multi Selector right to put a check mark in the box, as shown in this figure.

The check mark turns on the Image Comment feature.
9

Press OK.

You return to the Setup menu. The Image Comment menu item is set to On.

The camera applies your comment to all pictures you take after turning on Image Comment. To disable the feature, revisit the Image Comment menu screen, highlight Attach Comment, and press the Multi Selector right to toggle the check mark off. Press OK to make your decision official.