Using a Flash Attachment on Your Digital Camera
Using a Flash Attachment on Your Digital Camera
Virtually all digital cameras come with a built-in flash. But if you have a midrange or professional camera, you can also add external flashes, which better control how your flash lights your camera's subject. To attach a flash to your digital camera:
1

Select the appropriate flash for your needs.

Take into consideration the range of the flash and the different modes it offers.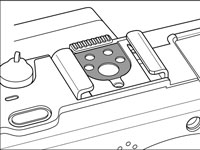 2

Attach the flash to your camera.

Your digital camera probably has either a hot shoe (an accessory shoe, which you can see in this illustration, that has a power and control connection) or a sync connector (a special bracket that fastens to the tripod socket on the bottom of the camera to mount the flash).
3

Adjust the camera settings.

Make sure that your digital camera recognizes and adjusts for the use of external flash attachments.
4

Take photos as you normally do.