How to Review Your Budget in Quicken 2014
How to Review Your Budget in Quicken 2014
After you complete your budget in Quicken 2014, you'll want to review your handiwork, of course. And you perform your review using the Quicken's Budgets window and its unnamed, unlabeled drop-down lists and boxes. (Refer to the following two figures.)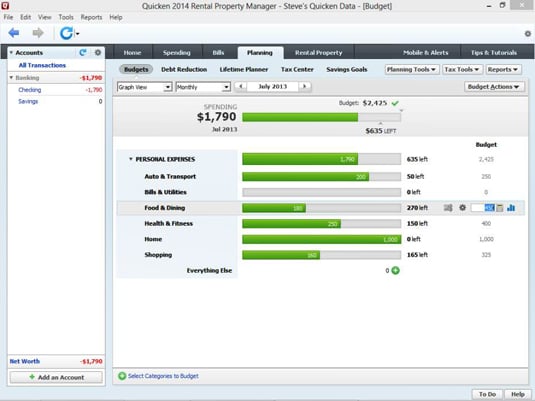 The Budgets window

An annual view of the Budgets window, with drop down lists.
Which drop-down lists and boxes Quicken displays and what order these items appear in, however, depends on factors like the number of budgets you've created. But you will see some or all of the following:
Budget name: If you've created several budgets, Quicken supplies an unlabeled drop-down list box in the top-left corner of the Budgets window. You use this drop-down list box to select the budget you want to review.

Graph View/Annual View: The Graph View/Annual View drop-down list box lets you flip between the Graph View and the Grid View.

Interval: The unlabeled budgeting interval drop-down list box in the top-left corner lets you select the interval you are budgeting for: monthly, quarterly, yearly, quarter to date, year to date, and so on.

Calendar: Finally, you use the unlabeled calendar box to select the specific month for Graph View.
If you have any questions about what the unlabeled drop-down lists or boxes do, just experiment with the various budgeting drop-down list and box options. You'll pretty quickly figure out on your own how they work.