How to Record a Deposit with Quicken 2010
How to Record a Deposit with Quicken 2010
When you record a bank deposit in Quicken 2010, you enter the amount of the deposit in the Deposit field of the appropriate banking account.
1

Expand the Banking section of the Account Bar that appears on the left, and then choose your bank account in the sub-list that appears

The Checking window opens to the right of the Account Bar.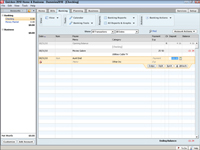 2

Click the Transactions button in the Checking window.

If your Quicken screen doesn't match the following figure, choose View, and then Standard Menus (recommended).

The Transactions tab looks and works like a check register.
3

In the Date field of the next empty row of the register, type the date.

Use the MM/DD format. You enter August 31, 2010, for example, as 8/31.
4

Type the code DEP (for deposit) in the Num field.

Alternatively, you can click the Num drop-down list and select Deposit.
5

In the Payee field, type the name of the person or organization from whom you received the deposit.

If you've already made a deposit from this payee, you can select his, her, or its name from the Payee drop-down list.
6

Enter the deposit amount in the Deposit field.

Don't type the dollar sign — or any other punctuation other than a decimal place to indicate dollars and cents.
7

Open the Category drop-down list and select the appropriate category.

Alternatively, if you like living on the edge, try typing in the category name in the Category field. You also can type a new category name, and then follow the prompts to add it to your category list.
8

(Optional) Enter a memo description in the Memo field.

Describe something about the deposit, such as the reason for it. Press Ctrl-2 to toggle to Two-Line display if the Memo field doesn't appear on your screen.
9

Click the Enter button.

Quicken adds the transaction to your register.