How to Make Ultrasuede Cutout Curtains
How to Make Ultrasuede Cutout Curtains
This curtain is a basic Ultrasuede panel into which you cut designs with an X-Acto blade or scissors. You can use a stencil if you feel that may help you get the design you want. Try diamonds, hearts, or triangles — simple shapes that are dramatic — or try a scalloped edge on the bottom.
Fabric markers and Ultrasuede aren't a great mix: This fabric may absorb the ink a bit too well and not wipe away. If you need to draw your image with something finer than tailor's chalk, work on the wrong, or back side with a nonbleeding ballpoint pen.
1

Measure across your window to determine your panel's width and from the top of the rod to your windowsill.

Your panel needs to be the same size as your window, including the trim mold (for effective sun blocking). If you prefer a fuller look, add a half-width measurement. For example, for a 30-x-60-inch window, use an extra 15 inches, so your width is 45 inches.
2

Spread your fabric out on your safe cutting surface or worktable, weighing down the edges if necessary.

The best way to keep your fabric flat and secure when cutting with a sharp blade is to apply a paperweight, heavy books, or other weights on the fabric. (Fabric weights are available commercially, but they're a waste of money.)
3

With your yardstick or ruler, determine the size of each cutout and the space between each one.

You want equal space between each cutout and to the right and left edges of your panel.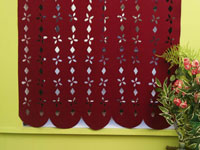 4

Use your chalk to create the pattern you want to cut out of your fabric.

Start at the center and work left, and then right, to get an even amount of motifs and spaces across the bottom. Consider drawing a light horizontal chalk line across the "top" of your design area. Doing so helps you keep your designs straight when drawing freehand.
5

Cut out your motifs using your knife.

Work slowly and take a break from your work once in a while to see if you're doing it right.